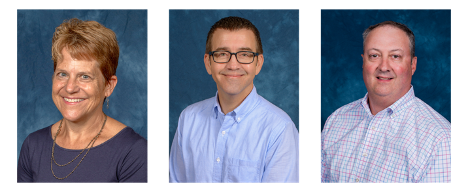 The University of Louisville College of Education and Human Development (CEHD) has received an $80,000 grant to boost reading skills in young children.
The grant from the Kentucky Council on Post-Secondary Education will allow CEHD professors to provide professional development to 30 Kentucky educators as part of the Kentucky Department of Education's Read to Achieve (RTA) program.
RTA grants support teachers in implementing evidence-based instructional strategies that address the diverse needs of primary students struggling with low reading levels.
The UofL Structured Literacy Project (UL-SLP) will tackle this growing concern through the training of K-3 teachers. Co-directors are Amy Seely Flint, department chair and professor in elementary, middle & secondary teacher education; Todd Whitney, assistant professor and assistant chair in special education, early childhood & prevention science; and Justin Cooper, associate professor and department chair in special education, early childhood & prevention science.
The three co-directors have extensive knowledge in reading and multi-tier support systems. 
The one week, in-person summer training will focus on structured literacy approaches and valid and reliable universal screener and diagnostic data.
"This is an in-depth professional development opportunity for teachers," said Seely Flint. "It's like a literacy camp in some ways and participants will be able to immediately incorporate this into their classroom practice."
UL-SLP will recruit participants through an array of partners like the Southeast South-Central Educational Cooperative and the Ohio Valley Educational Cooperative. 
"Not only is this a great opportunity for teachers but it's also an opportunity for us to work with educational co-ops and get into schools that we don't typically work with," Cooper said.
The teachers will learn essential background knowledge, phonological and phonemic awareness, decoding and word recognition, fluency, vocabulary, language comprehension, and using assessments to differentiate instruction. 
"We're really confident in this project because it will address the need for explicit and systematic instruction in the five areas of reading," Whitney said.