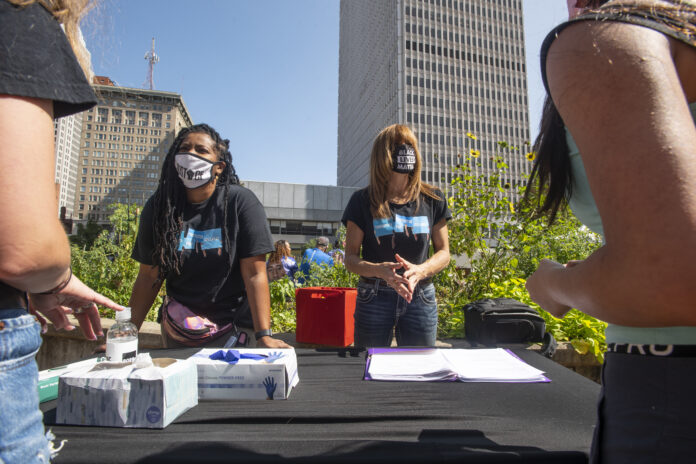 As protesters hit Louisville's downtown in summer 2020 to seek racial justice, some skilled supporters mobilized to look after them.
There, at a table labeled "Therapists for Protester Wellness," marchers likely found Millicent Cahoon, a UofL counseling psychology doctoral student, or Cheryl Ades '92, a Kent School of Social Work alumna, among the volunteers.
Their alliance began the June day after a photographer documenting protests at their downtown core was killed by civilian gunfire, devastating other protesters.
Cahoon knew she had to do something. So she appealed to fellow mental health professionals via Facebook to join her there to help. Ultimately, about 50 people offered aid. 
"It was those who felt very strongly about the movement and wanted to advocate for the clients," Cahoon said. "This group is just awesome. It shows therapy is not just a job for most of them. They feel strongly about helping other people."
Counselors rotated in to listen and offer onsite encouragement, wellness exercises, educational materials and referral lists noting therapists of color and others offering services – many at reduced rates or free to those protesting. Cahoon credited Ades with helping to quickly compile resources, some for people who might be seeking emotional care for the first time.
"More than ever mental health has had a huge platform," Cahoon said. "I really do think it's starting to take down some of that stigma."
Coming from an outpatient therapy job and aspiring to a private practice and research in Black mental health, the new student said she sought out the College of Education and Human Development doctorate in part because of UofL's Cardinal Success Program. The program, at the Nia Center, is a partnership to make counseling services more accessible to West Louisville.
"I'm very thankful UofL has been so open to supporting a Black student," Cahoon said. "They've been reaching out to me and being super supportive."
A trauma specialist, Ades said she's mindful of the protesters' concerns, understanding that they may be experiencing ongoing trauma every day.
"I've wanted to give back more," Ades said. When not working the table, Ades often joined with protesters to march, knowing the movement has sparked more attention to societal issues.
"I've never been prouder to be a social worker," Ades said. "I think actually a lot more people are going to go into social work. Law, criminal justice and social work are going to explode."
Their efforts, including "to remind people to take care of themselves during this movement," were featured by NBC News after the height of the protests last summer.
This story was initially published in the Fall/Winter 2020 edition of UofL Magazine.