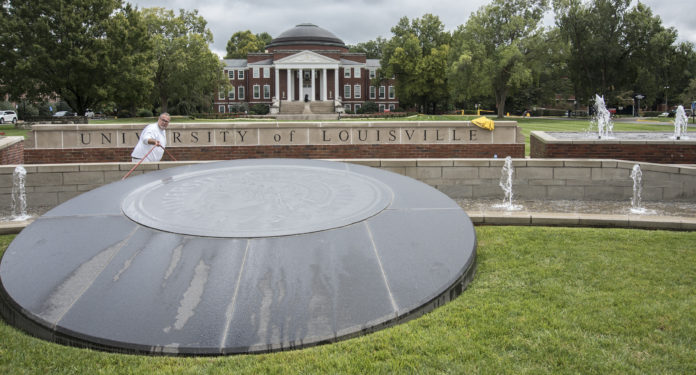 Teamwork, pride and preparation have lifted the Cardinal Football team to Saturday's marquee spot for its matchup against Clemson.
UofL's Physical Plant employees have also adopted a teamwork, pride and preparation mentality to ready the Belknap campus for primetime.
ESPN's College GameDay will air from the heart of campus Saturday morning and, though most eyes will be on Lee Corso's headgear choice, a number of UofL employees will continue to work as they've been all week to make sure the Grawemeyer Hall backdrop looks perfect on millions of high-definition TV sets.
Since ESPN made its location announcement Sunday, about 30 employees have been putting forth a team effort to ensure the Oval is flawless by adding fresh paint, mowing, power washing and more.
"Everyone moved into action first thing Monday morning and they've been going all week. These guys are pros and they're hitting all the details. They know what to look for and how to make it all look better," said Aaron Boggs, director of Buildings and Grounds. "That's the great part about working at UofL – everyone comes together for a big event."
In addition to refreshing paint and manicuring the green space, plumbers have been working on the entrance fountains and electricians have been ensuring the lights are ideally placed for a live broadcast, as well as some night shots. Boggs said there has been an added sense of pride since the location showcases our "prime real estate" Oval.
"We always do what we can to make the Oval look good because it has curb appeal. But Saturday there will be current and possibly future customers both in the Oval and seeing it on national TV and we're looking at what we can do extra," he said. "You can't get a better backdrop than Grawemeyer Hall."
The team has navigated a few challenges, including a couple of rainy days this week. But Boggs said Mother Nature is always a concern, and it helps the crew think creatively on how to approach all scenarios.
"That's why we gave (the lawn) a fresh cut on Monday at a lower height, for example. But our biggest challenge will be how to get campus to look like nothing happened here after their crews leave," Boggs said. "Fortunately, I think the weather on Saturday looks like it's going to cooperate with us, so hopefully it won't be too hard."
Boggs does anticipate even more work being done once ESPN rolls in late Wednesday night and through the weekend to "get things back to normal." Nobody seems upset about it, however.
"Our guys are excited about this type of stuff and they seem to want to be a part of it. It seems to be its own motivator," Boggs said. "There are even a couple of UK guys on my staff who are recognizing how cool this is."
UofL is expecting about 2,000 people in "the pit" area on the Oval Saturday. Fans typically begin lining up for access around 4 a.m. and access begins at 5 a.m. The show will air from 9 a.m. to noon. The game will begin airing at 8 p.m. from Papa John's Cardinal Stadium and will be shown on ABC.