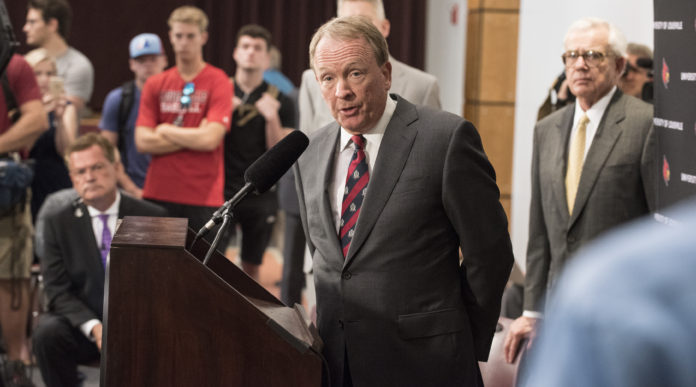 University of Louisville Interim President Dr. Greg Postel has suspended head men's basketball coach Rick Pitino and director of athletics Tom Jurich, effective immediately.
Postel met with Pitino and Jurich separately Wednesday morning to inform them of the decision, which comes after allegations that a men's basketball coach participated with an apparel company and others in a scheme to pay a recruit to come to the university.
That player has been notified that he has been removed from team activities.
"The allegations are serious," Postel said. "It is vital for this university to strictly adhere to NCAA rules and, of course, federal law. Doing nothing would be a tacit endorsement of potential criminal and unethical behavior."
Jurich has been suspended with pay, effective immediately, pending the next meeting of the University of Louisville Board of Trustees. Pitino has been suspended without pay, effective immediately.
Postel said he will work quickly to name an interim athletic director and, together, they will name an interim head men's basketball coach. He said he hopes to announce those appointments within 48 hours. Decisions regarding coaches named during the investigation will be made by the interim athletic director.
Postel stressed that the university will cooperate fully with law enforcement and NCAA officials.
The press conference is available below: