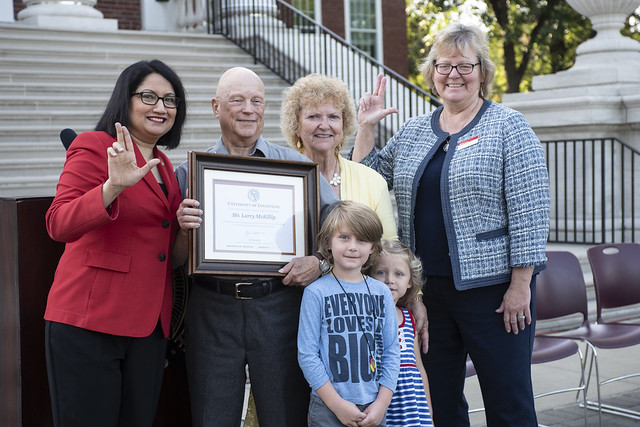 Larry McKillip served his country when asked, spending two years in Vietnam. He later enrolled at the University of Louisville, but left to take care of his family and did not complete his education.
He worked in his local veteran's administration hospital in Ohio, helping ailing veterans get back on their feet, retiring in 2006.
On Aug. 5, he was invited to a ceremony with UofL President Neeli Bendapudi, other administrators, faculty and staff, and he was asked to wait patiently at the bottom of the steps of Grawemeyer Hall for a surprise. He waited.
He didn't know that his son-in-law had contacted UofL a few weeks before, wondering if there was some kind of recognition that could be given to someone who was never able to return to finish his degree. McKillip, 74, was diagnosed in 2016 with stage IV esophageal cancer, son-in-law Jason Beavers told UofL, and he had always felt he left some unfinished business in Louisville.
The request set in motion a flurry of activity as the Alumni Office prepared to make him an "Adopted Alumnus," a recognition established in 1982 for those who have a demonstrated interest in or love for UofL. 
But it turned out, McKillip had earned enough credits to be an actual alum. 
"I'm not a dancer, but I danced on the inside" at the news, Beavers said.
Beavers and his wife, Anastasia, along with their two children, 4-year-old Abigail and 6-year-old Josiah, joined McKillip and his wife of 40 years, Linda, for what was billed as an informal "Adopted Alumnus" ceremony. The family posed for photos in front of Grawemeyer Hall and admired the manicured lawn and mature trees.
"Some lives are exemplified by service," Bendapudi said at the ceremony. "Service to others, service above self, service selflessly. And that, I think, truly exemplifies this man."
Bendapudi and Provost Beth Boehm presented McKillip with his certificate. She welcomed him to the Cardinal family, then joked that, "as families do," UofL had a secret.
Meg Hancock, special assistant to the dean of the College of Education and Human Development, walked to the podium. She spoke about the Cardinal values and gave him a gift bag filled with Cardinal gear. 
Then she handed McKillip his Associate's degree in Recreational Education.
"Thank you for your service, your noble purpose in terms of education and serving our country and taking care of your family," Hancock said. "We are so glad to have you as part of the Cardinal family."
Calm and polite, standing tall and smiling broadly, McKillip said he was "beyond shocked. I feel so grateful to the university and what you all have done. I'm very proud. It's something I've wanted for so long."
Despite not having a degree, McKillip had taken what he learned at UofL and used it to benefit others, working at his local veteran's administration hospital as a recreation technician who kept ailing veterans active during their hospital stays. After he retired, he continued to volunteer there.
McKillip had earned the rank of petty officer second class before he was discharged from the Navy in 1971. He served two years in Vietnam on the medical team of a Marine Corps. boat. He enrolled at UofL in 1978 after two years of community college, then returned to Chilllicothe, Ohio. He and Linda have four children.
More photos from Monday's ceremony are available online here. 
Watch video from the ceremony below.