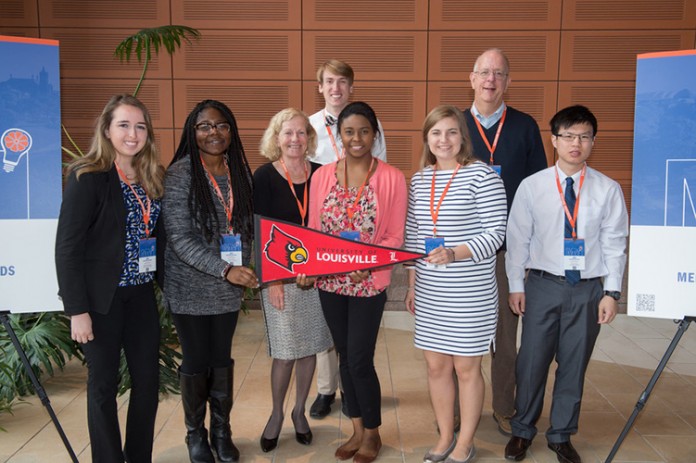 Some of the best and brightest students the Atlantic Coast Conference has to offer, including six UofL undergraduates, met April 8-10 at the annual Meeting of the Minds research conference hosted by Syracuse University in upstate New York. The event highlights undergraduate research and scholarship at the 15 ACC member schools and represents the power and synergy that can exist between athletics and academics.
For sophomore biology major Karen Udoh, who presented cancer research she conducted last summer, the event was a life-changing experience.
"Going into the conference I was a bit unsure whether I wanted to continue to incorporate research as a part of my education in the long run," Udoh said. "But listening to all of the speakers and getting advice from some of the mentors really inspired me to keep with it even though it can be very difficult. Talking to them and hearing the challenges and obstacles they overcame made me realize that the whole process is a learning process and worth it in the long run."
According to junior biochemistry major Hung Vuong, the conference was an opportunity to meet student and faculty researchers from across the country, and also to learn how to communicate his findings in a clear and compelling way.
"I learned that you can't just present your research like, 'This is what I'm doing and here is why I'm doing it,'" Vuong said. "It needs to be presented in a relevant way that your audience can understand, and then explore what we can do with this research in the future. I'm by myself in the lab a lot doing experiments, so presenting to a whole new group that I didn't know was a challenge that required me to adapt and learn how to better communicate my findings."
UofL junior Conrad Smart, attended the conference last year and said the lessons he took from that meeting had a direct impact on him winning a prestigious 2016 Goldwater Scholarship.
"I really like having the students talk about the diverse research that they are doing," Smart said. "It solidified my interest in science and gave me a more rounded approach to how I portray the research that I do so that people who are not in my field can understand it. The experience helped me understand how to express myself and my ideas more fluently, which I was able to draw upon when applying for the Goldwater Scholarship."
Although the event was not competition-based, all 15 ACC schools did participate in a winner-take-all trivia competition. UofL finished third.