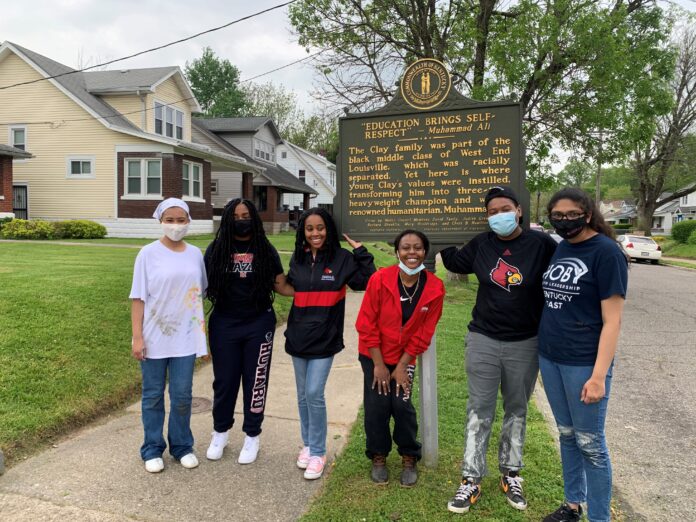 Louisville's Grand Avenue runs from Dixie Highway to Chickasaw Park on the banks of the Ohio River. It boasts churches, homes and businesses, like Reynolds Metals.
But it is most known as the street in which boxing legend Muhammad Ali, then known as Cassius Clay Jr., grew up. The entire Clay family resided at the house full-time from 1947 through 1961.
The Ali home, located specifically at 3302 Grand Ave., had fallen on poor conditions and was restored beginning in 2015 to recapture minute details from the wallpaper to the picture frames. It is now registered with the Kentucky Historical Society and opened as a museum dedicated to his life on May 1, 2016. 
Thanks to those restoration efforts, passersby no doubt immediately recognize the 1,000-square-foot house because of its signature pink exterior – just as the house looked when Ali was young.
As a non-profit organization, the Muhammad Ali home often requires extra help for upkeep. Recently, a group of UofL students, alumni and employees provided just that.
Ambassador Shabazz, the eldest of six daughters born to Dr. Betty Shabazz and Malcolm X Shabazz, works with the Muhammad Ali Childhood Home Museum and reached out to Ashleigh Hazley, director of UofL's Muhammad Ali Institute for Peace and Justice and adviser for the Muhammad Ali Scholars program, to gauge volunteer interest from the campus community.
A handful jumped at the chance and, since April, have pitched in to help around Ali's home – cleaning, pulling weeds, planting new flowers, painting and so forth.
"We tried to get it to look as nice as possible ahead of Ali Week (June 4-13), which is hosted by the Ali Center and the Ali family. It looks nice," Hazley said.
Ambassador Shabazz's vision is to revitalize all of Grand Avenue, Hazley said. She anticipates UofL will be involved in future projects until that goal is met.
"We have a hodgepodge of folks from UofL who really care about the upkeep of this home. It's important and powerful," she said.
For Hazley, it's also personal. She lived on Grand Avenue when she was younger and would recall her grandmother talking about Muhammad Ali "living down the street" and the pride that came with it.
"It was important for me to make this connection because of my work for the institute and with the scholars," she said. "I thought it would be special for them, too and I think it has been."