During winter break, most UofL students headed home to celebrate the holidays with family and friends. But break was slightly different for 17 students, including myself, who headed  to Atlanta to participate in an alternative service break trip.
The Alternative Service Break Board at the University of Louisville is a program of the Engage Lead Serve Board with a mission to create active citizens through direct service. Since 2015, Alternative Service Break Board (ASBB) has been impacting local, national and international communities.
This ASB trip focused on the LGBTQ+ Youth and Homeless populations in Atlanta and the issues surrounding their circumstances. Our group became immersed into the culture of Atlanta by staying in the Lydia House, which is an renovated church in the center of the city. We volunteered for four days at various locations that focus on LGBTQ+ Youth and Homeless citizens. Most of us on the trip have a close connection to one or both of these populations.
We left in December, the day after finals. Throughout the course of our trip, we worked alongside three non-profit organizations. The first, called City of Light, helps create safe spaces for all people. Here, we deconstructed office spaces and classrooms, moved furniture and chairs, and helped organize and create pamphlets for people who wanted to be members of this organization. Our group chose to work with the City of Light because of its commitment to creating safe spaces for students and other folks who identity on the the LGBTQ+ spectrum.
Our second location was Lost-N-Found, which is an non-profit dedicated to end homeless for the LGBTQ+ Youth. Here, we organized clothing, books and CDs for the organization's thrift shop. We also created more than 100 hygiene and care packages for its nonprofit arm, called CHRIS 180. While we dropped off the kits, we were able to tour different spaces and programs that are available to the people of Atlanta. 
We chose this organization because its proceeds go toward outreach, a transitional home and an LGBTQ+ Youth center.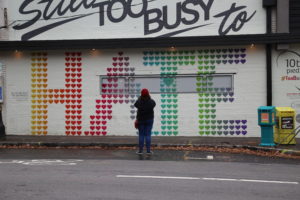 On the last day of the trip, we traveled throughout Atlanta to different museums and local hot spots, such as the Civil Rights and Human Rights Museum, Centennial Park, and the Flying Biscuit Cafe.
Overall, our was a success because it was the first completely student-run trip outside of the state of Kentucky. Our work with the three different organizations made up a total of 340 hours of community service, which equates to a full-time employee working for 8.5 weeks.
Our overall purpose was to focus on how an individual or group can leave an great impact on a local or national community. Since our return, we are now more equipped to serve the Louisville community with a passion for service.