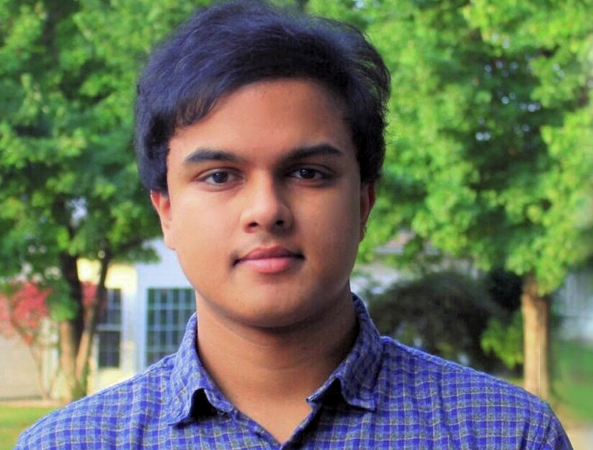 Praneeth Goli, a senior chemistry major with minors in philosophy and biology, has kept himself plenty busy during his time at UofL.
Goli is both a Henry Vogt Scholar and a KEES Scholar. He serves as the founder of both the Louisville Social Innovation Lab and the Droplet Water Project, and is also a member of the Indian Student Association. He has been involved in research in diabetes care and treatment at the University of Louisville and Harvard Medical Schools.
For the Droplet Water Project, Goli teamed up with UofL alum Jarui Desai ('18) to provide clean drinking water to those who need it most.  As of now, they have completed water projects in both India and Colombia.  
Last year, he was named a Barry Goldwater Scholar, a prominent award that goes to sophomores and juniors pursuing research careers in math, science and engineering. There have been just five Goldwater Scholars at UofL in the past decade.
In 2017, Goli earned the CCU Outstanding Freshmen Student Award. The next year, he earned the CCU Outstanding Sophomore Student Award. The year after that, the CCU Outstanding Junior Student Award.
Goli has certainly shown a pattern of achievement and a global pandemic hasn't slowed that down.
Goli and Nico Ferreyra, another UofL student, recently assembled a committee of volunteers that have so far distributed nearly 800 meals to those who need them during the COVID-19 outbreak. The students are working with Blessings in a Backpack to facilitate the meal deliveries and are focused on making sure the food needs of the city's elderly population are being met during this crisis.
According to Goli, the committee he and Ferreyra assembled is built in partnership "with inspiring local nonprofit leaders and include the key public organizations working on this issue."
"We are excited to continue mobilizing our volunteers in a safe and coordinated manner," Goli said.
For John Nevitt, director of economic mobility at Metro United Way, Goli's efforts are not surprising considering his extensive resume.
"Praneeth Goli has been an extremely thoughtful and engaged Metro United Way volunteer, serving on our Community Impact Cabinet," Nevitt said. "As you may know, he is extremely industrious, having launched two non-profit organizations since becoming a student at UofL, and soon to help with the creation of a social innovation lab at the university."
Earlier this month, Goli was presented with a Cardinal Award. Formerly known as Mr. and Ms. Cardinal, the Cardinal Awards are presented by UofL's Student Activities Board and is based on academic excellence, co-curricular activities and service to the university. It's clear, however, that Goli's service extends far beyond the university.
Check out the video Metro United Way put together about their efforts here.