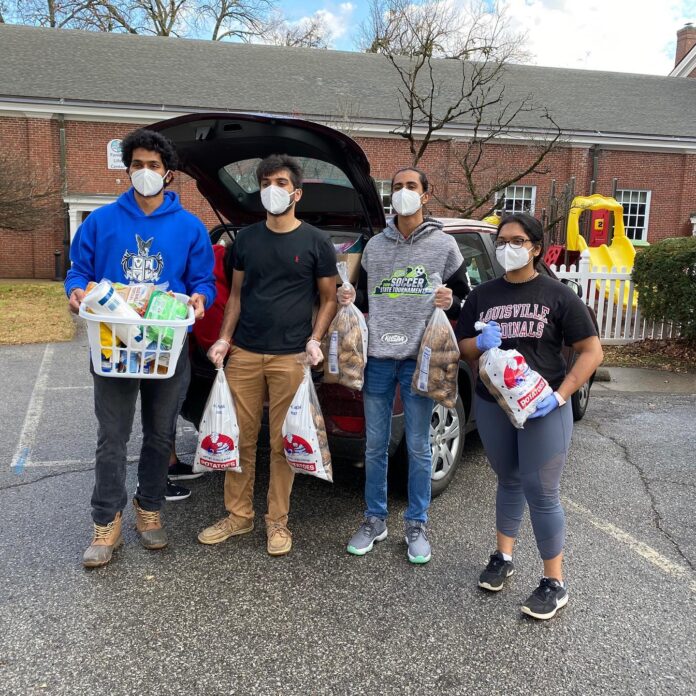 In the early days of COVID-19 when things were scary and uncertain, many of us chose to stay at home and mind our own business.
For UofL student Karthik Kalvakuri, however, that simply wasn't an option. When businesses and schools shut down across the country, too many people found themselves struggling to make ends meet and he felt the urge to help.
Ten of his peers also felt such an urge. Together, they started facilitating projects for Mission CuraKid, with a simple intent: "Doing our part to help spread smiles in these unprecedented times."
At that point, Bangalore, India, native Kalvakuri had already started Mission CuraKid to help ensure children in impoverished countries had access to proper health care services. But when COVID-19 hit, he turned the nonprofit's global focus closer to Louisville.
The junior biology major recruited 10 of his UofL peers to help: Shria Narapaneni (biology), Donna James (neuroscience), Amini Patel (neuroscience), Manav Patel (mechanical engineering), Gopika Gopan (biology and neuroscience), Dakshin Devanand (neuroscience), Chandani Patel (neuroscience), Neel Patel (exercise science), Karthik Malyala  (computer science engineering) and Pranav Talluri (finance).
Their first project was to collect supplies and food for schoolchildren who were pulled out of their schools in 2020. They reached out to local businesses asking for donations of school supplies, health and hygiene items, snacks and masks, and assembled backpacks for 150 children. They also wrote notes of encouragement for those students abruptly isolated from their peers.
The Mission CuraKid group didn't want to stop with a one-and-done service, however. They completed a second, similar project in August 2020, donating backpacks to 370 children within the Louisville area.
Their third project was completed in December 2020, during which Mission CuraKid donated 200 backpacks with school supplies and sanitary materials, and 130 baskets filled with food and nonperishable items.
The group's fourth and most recent project was completed last month and was its biggest yet, with 600 totes filled with sanitary and school supplies for children starting school this fall. The totes were donated to nine different charities.
"We noticed that more often, it was kids caught up in the middle of these struggles. We chose these projects based on need. Our second and fourth projects were completed right as school began so that we could provide school supplies to children and give them a good start to the year," Kalvakuri said. "Our third project was completed in December 2020. We wanted to help families have a secure and happy holiday season even with the pandemic happening."
Though the idea to localize Mission CuraKid came from the pandemic, Kalvakuri wants to continue its mission if/when it ends. The UofL students also want to continue the work after they graduate.
"We are hoping to expand with more members and bigger projects," Kalvakuri said. "As long as there is work to be done and people in need of help, Mission CuraKid wants to do its part. I believe a good community looks after each other and grows together." 
Follow Mission CuraKid's projects on its Facebook page here.