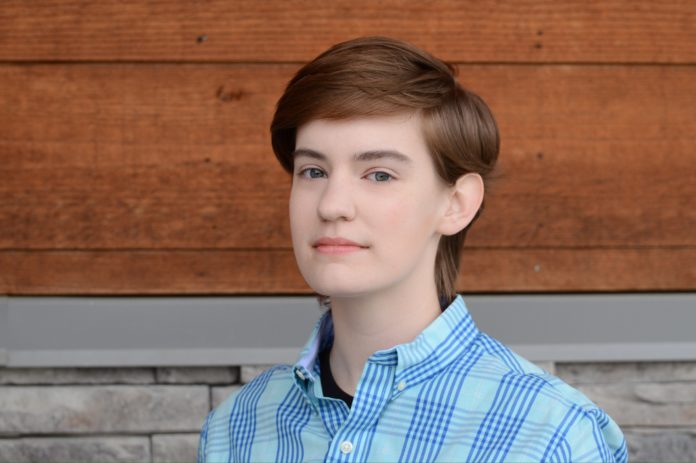 Every spring, the American Society of Civil Engineering (ASCE) heralds promising new stars in the field through its collegiate edition of the New Faces of Civil Engineering. The 2020 honorees are 10 remarkable students who demonstrate focus, ambition and dedication to helping others. This year, one of those exceptional students is Ryn Kalbfleisch, from the University of Louisville J.B. Speed School of Engineering.
Kalbfleisch proudly identifies as nonbinary (expressing a gender identity that is neither entirely male nor entirely female) and bisexual, and it was ASCE Code of Ethics' Canon 8, adopted in 2017, that helped empower their civil engineering dreams.
"Seeing gender identity and sexual orientation recognized and protected at such a high level gave me a renewed burst of enthusiasm to pursue my dreams within the field of civil engineering, even though people who look, act and identify like me aren't traditionally expected to do so," Kalbfleisch said.
At UofL, Kalbfleisch found an environment that was welcoming and supportive.
"The faculty, the staff, the advising team, and your fellow students – the school wants you to succeed," said Kalbfleisch. "They walk the walk and not just talk the talk when it comes to diversity and inclusion. They listen to students of marginalized identities, and make sure that they're academically safe here." 
A native of Louisville, Kalbfleisch said they were initially drawn to the Speed School in their own backyard because of its quality reputation, but what really sold them was the co-op program, and all the opportunities for student involvement.
Kalbfleisch is active with the UofL ASCE Student Chapter, serving as the vice president of activities, as well as serving as treasurer for the Society of Women Engineers (SWE), and as a member of Speed Spectrum, the LGBTQ support group on campus.
"I really have loved the support that SWE and Spectrum give, as it is still traditionally kind of a male-dominated workforce," said Kalbfleisch.
"I've been able to grow as a leader in different organizations and there's so many opportunities on campus and in the community," they said. "Having students that share identities and backgrounds with you; that you can grow together through your college experience, is really nice. And then ASCE, the civil society, has the more technical and professional opportunities."
As a senior, Kalbfleisch has also enjoyed mentoring younger students. "I think the most meaningful part has been getting to work with underclassmen, whether as a teaching assistant or as a student organization officer, with younger folks reporting to me, or just recruiting new freshmen to organizations," Kalbfleisch said. "Seeing where I was a few years ago, and how much I've grown since then, and knowing the growth that they're about to experience, has been gratifying."
Kalbfleisch has completed three semesters of full-time work at Louisville Gas & Electric and Kentucky Utilities Energy for co-op, with hydropower as a chief interest. But they hope to excel in many different areas of civil engineering, they said.
"It's all about the real-world problem solving, the working with people," Kalbfleisch said. "Once I discovered I could do everything I was interested in with a civil engineering degree, I fell in love. The scale and impact that our work can have, on communities and on people's lives. It captivates me."
This story was written by Holly Hinson.