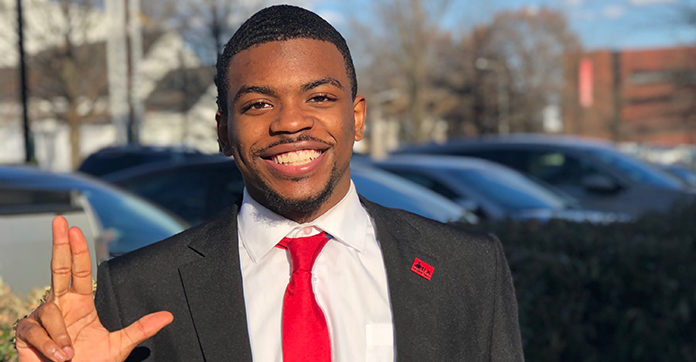 UofL freshman Quintez Brown is already making quite an impact. So much so, even former President Barack Obama has taken notice.
In February, the political science major and first-generation college student was one of 22 students in the country invited to the inaugural national gathering of the Obama Foundation's My Brother's Keeper Alliance that supports boys and young men of color.
"I was able to meet and speak to President Barack Obama. I shook his hand, looked him in the eye, and told him my name and where I came from," Brown said.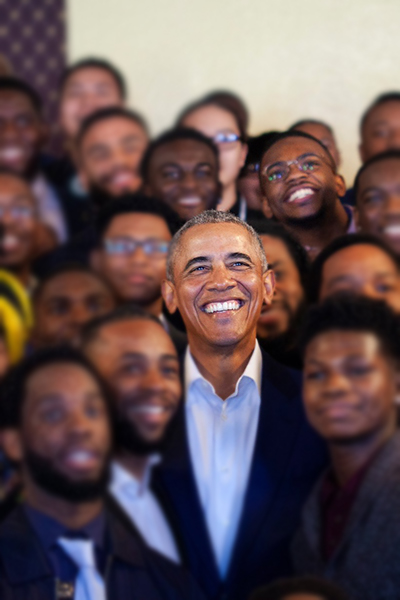 A Louisville Youth Voices Against Violence Fellow at the Youth Violence Prevention Research Center, Brown works with researchers, community partners, and community organizations to help reduce violence in West Louisville. He helps design and implement the organization's social norming campaign.
"I first heard about the My Brother's Keeper Alliance when my coworker sent me the application and suggested I apply for MBK Rising," Brown recalled. "I decided to apply because the only requirements were 'Are you a young man of color?' or 'Are you doing exceptional work on behalf of young men of color?,' and all I had to do was submit a 60-second video highlighting work I do to ensure young men of color thrive."
The west Louisville native traveled to Oakland, California, where he participated in MBK Rising, a two-day workshop aimed at finding solutions to obstacles and closing opportunity gaps that young men and boys of color face.
As part of his trip, along with engaging with Obama, Brown met with and listened to prominent figures that included NBA star Steph Curry, Grammy-winning singer John Legend, four-time NFL Pro Bowl selection Richard Sherman, and award-winning actor Michael B. Jordan.
"What stood out most to me at the event was the number of young men of color from across the country that attended the event," Brown, a Martin Luther King Jr. and Porter Scholar, said. "Once I got there, I was able to meet plenty of young men of color that were doing exceptional work in their respective communities whether it revolved around mentorship, violence prevention, speaking, writing (or) music.
"There were so many talented, passionate individuals that I couldn't help but be inspired."
Brown said he became involved in the community because of first-hand experience of inequity within the city. He wanted to make a difference and believes that the event strengthened his desire to do just that.
"Being invited to MBK Rising meant that my involvement and dedication to my community is important and necessary," Brown said. "Having the opportunity to be recognized on a national level meant that I had an opportunity to widen my scope and have an impact on more people's lives."
Toward the latter part of the trip, Brown was one of hundreds able to attend and participate in a Town Hall meeting with Obama and Curry.
Though the dialogue and advice resonated with the crowd, it wasn't Brown's biggest takeaway from the trip. Rather, it was the continued connections with other attendees. 
"Moving forward, with the young men I've met at the end, we have already created an everlasting bond and we continue to stay in touch with each other and raise one another up," Brown said. "I not only learned valuable lessons on community activism, but most importantly, I learned the importance of mentorship, brotherhood and service. I learned that in order to climb, I must lift as well.
"I will continue to uplift those in my community and am looking forward to more opportunities to grow and connect with individuals wanting to make a difference."