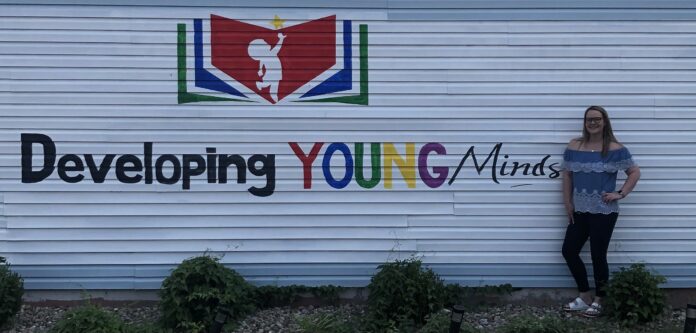 Certain people enter your life at just the right time. That's Jenny Warren's story. She had moved to Louisville, was living in a homeless shelter and unsure of her future. Fortunate to have landed a job as a childcare worker, Warren began taking courses to earn her Child Development Associate (CDA) degree offered through UofL's College of Education & Human Development. Instructor Dianna Zink inspired her to keep going and complete her goal.
"Dianna was always so kind and understanding. She went the extra mile to help me and ensure I was going to be able to complete my work and obtain my certification," Warren said. "I had to overcome a lot of adversity at that point in my life and I honestly believe if I'd had a different instructor, I wouldn't have been able to complete the course."
Earning a CDA certification is required of all teachers who work in federal grant programs like Early Head Start for children from birth to age three, and Head Start for 3-and-4-year-olds. These programs provide full-day services for struggling and homeless families.
The Ohio Valley Education Cooperative pays for teaching assistants working in their Louisville and surrounding county Head Start classrooms to earn a CDA degree through a program at UofL's College of Education & Human Development. This is the fifth year for the partnership between OVEC and UofL.
"Many of those who attend our classes have had huge challenges in their lives and still do. This is the first rung on the ladder to success in the field of early childhood," Zink said.
Originally, all courses were in-person only, but in 2020 online classes taught by Erika Nygard were added to the CDA course offerings. The curriculum is focused on several key areas: Safe and Healthy Learning Environment; Physical & Intellectual Development; Social Emotional Development; Working with Families; Effective Program Management; Professionalism; and Principles of Child Development. 
In addition to obtaining a minimum of 10 hours in each area of study, students are required to put together a portfolio, send out parent questionnaires, undergo classroom observation and prepare for a national written exam. A CDA Council then decides if a student has qualified to receive the CDA certification.
Zink says she has helped more than 200 students through the certification process.
"I may have a student that begins with me one year only to stop because of life challenges, but then continues the following year or when they are able to do so. The beauty of our program is that students can pick up where they left off," she said.
That was the case for Warren who went on maternity leave after completing the class work. This pushed back her classroom observation date. Then COVID-19 caused even more delay when her center had to close. She then gave birth to her second child. This year, Warren completed her CDA credential. She is now assistant director at Developing Young Minds and is continuing to further her education.
"My entire approach to facilitate learning with children has changed because of the information I learned in my coursework," Warren said. "Dianna really helped to ignite the passion in myself that has driven me to be the best early childhood educator I can possibly be."