UofL student Vinh G. and his family moved to the United States in 2016 from Vietnam. As a teenager, VG (as he prefers to be called) was thrust into the foreign environment that was Louisville, Kentucky.
A year later, VG began casually uploading videos to YouTube. His new hobby started with reviews of movies – he watched what he liked, filmed his reaction and posted the clips for the world to see. The new youtuber was getting a modest number of views, built a small fanbase and shifted the "HelloItsVG" channel's focus to cover another interest – video games. 
His YouTube page is more than just a hobby, however. It has also helped him build his English-speaking skills and improved his confidence.
VG is the only English-speaking person in his household and has noticed an improvement in his second language through creating content and interacting with his growing audience.
"I have to take care of everybody," said VG. "I've got to be in charge of bills and other things. YouTube gives me an opportunity to communicate with other people and spread positive vibes." 
VG uploaded a video titled "How To Get Free Faces on Roblox," in October of 2018. The next day, he woke up to 4,000 views. The day after – 40,000. Suddenly, it skyrocketed. That video has now been viewed more than 4 million times and, as his most-watched video, it's what VG credits as the catalyst to his channel's success.
"I didn't expect it to blow up," said VG. "I was just playing games and having fun with my fans. [When the video blew up] I was so happy. I just do it for fun, but that was a crazy opportunity."
Suddenly, VG's hobby became something he could monetize. Over a short period of time, the YouTube creator has amassed 583,000 subscribers on his main channel "HelloItsVG", and has set up a second "vlog" channel with 18,000 subscribers under the name "HelloItsVinh" for the content that doesn't fit the niche of his main channel.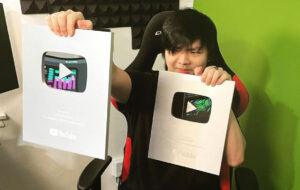 Though the hobby-turned-job can be quite time consuming, it hasn't hindered the second-year public health student from studying or building friendships on UofL's campus.
Learning those time-management skills should come in handy for VG to achieve his longer-term goals – expanding his audience, garnering more attention for the gaming industry in general and going to medical school.