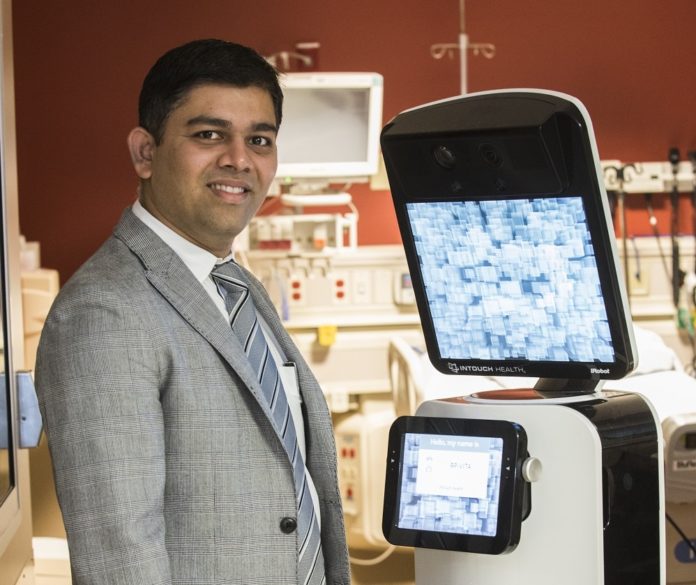 Kentucky is in the stroke belt, among the states with the highest incidence of stroke. Luckily, residents of the Louisville and Southern Indiana region who suffer a stroke can receive the highest level of stroke care possible at the University of Louisville Stroke Program. The program provides inpatient services at University of Louisville Hospital, part of KentuckyOne Health, first certified as a Comprehensive Stroke Center in 2012. It was the first designated CSC in Kentucky and remains one of only four in the state.
Re-certification as a CSC, the highest designation of care for stroke patients awarded by The Joint Commission, the primary independent accrediting body for health-care systems in the United States, assures patients that the physicians, nurses and other providers at UofL Hospital are fully prepared to quickly assess and treat patients suffering from all types of strokes using the most advanced treatments available. The Joint Commission re-certified the UofL program for two years, the maximum time period allowed for certification.
"We are proud to serve the citizens of our region with the highest level of integrated stroke care. We will continue to set the bar in Kentucky and Southern Indiana when it comes to stroke prevention and treatment," said Kerri Remmel, MD, PhD, chair of the Department of Neurology at the UofL School of Medicine and director of the University of Louisville Stroke Program.
Patients are treated by the highly trained and specialized physician faculty members of the UofL School of Medicine, including neurologists, neurosurgeons, cardiologists, emergency medicine providers, neuro-radiologists, vascular surgeons, hospitalists and neuro critical care providers. The multidisciplinary team also includes advance practice nurses, social workers, rehabilitation specialists, case managers and dietitians.
Comprehensive stroke centers such as UofL have the ability to care for patients suffering a stroke, 24-hours a day, 7 days a week, and perform procedures that may not be available elsewhere. When a patient arrives in the emergency department at UofL Hospital, examination, laboratory studies, cardiac tests and state-of-the-art imaging studies can be performed within minutes of a patient's arrival.
Highlights of the UofL Stroke Program include:
Rapid delivery of clot-busting drug – The UofL Stroke Program achieved the highest award status from the American Heart Association/American Stroke Association, Target: Stroke Elite Plus Honor Roll, in 2016 for prompt IV administration of the clot-busting drug tissue plasminogen activator (t-PA). UofL met the standard of administering the drug to more than 75 percent of patients who qualify within 60 minutes of arrival to the hospital, and to more than 50 percent of eligible patients within 45 minutes of arrival.
Clot-removal techniques – UofL neurointerventional specialists can rapidly open blocked blood vessels by removing blood clots and quickly restoring neurological function to patients.
Aneurysm treatment – UofL neurosurgeons and interventional specialists are experts with the latest treatments for brain aneurysms, whether with surgery or minimally invasive endovascular coiling techniques.
Tele-stroke consultations – UofL neurologists provide their expertise to hospitals in outlying communities in Kentucky and Southern Indiana in real time via tele-stroke services. Using a 5-foot, 6-inch-tall robot, physician specialists in Louisville can interact and converse with a patient, the patient's family, and on-site physicians and nurses through a live, two-way audio and video feed. The remote connection allows neurologists at UofL to more quickly determine the best treatment protocol for patients in their home hospitals and allow them to be treated with IV t-PA or other treatments quickly when appropriate.
Post-stroke support – In addition to inpatient care, the UofL Stroke Program provides stroke survivor and caregiver support to improve patients' wellbeing as they resume their daily lives.
Community education – UofL Stroke Program team members reach out to educate community members about reducing the risk of stroke by monitoring their blood pressure and maintaining healthy habits.
Even prior to its designation as Kentucky's first certified Comprehensive Stroke Center in 2012, the UofL Stroke Program achieved the highest recognition with the American Heart Association/American Stroke Association, receiving the Get with the Guidelines Stroke Gold Plus Award for the last 11 years. The recognition is awarded for meeting performance guidelines for the treatment and management of stroke patients from hospital admission to discharge.