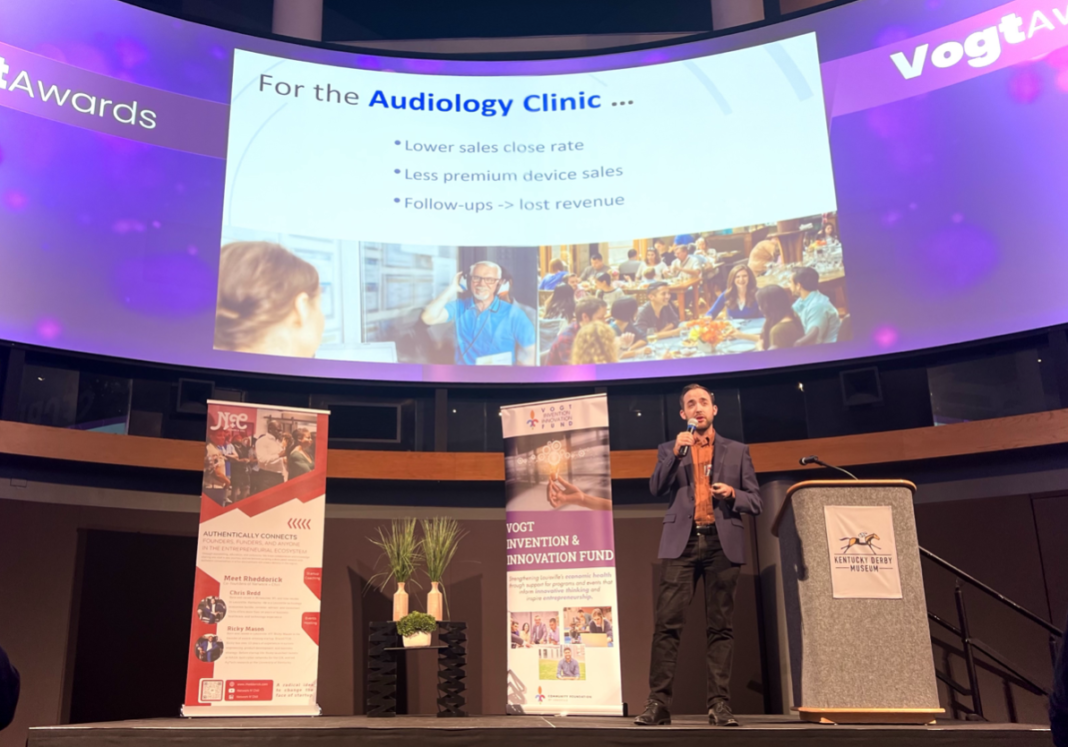 A new University of Louisville startup using virtual reality to better-test hearing aids has landed a prestigious Vogt Invention & Innovation Award, along with training and funding to further develop the technology for market.
The startup, Immersive Hearing Technologies, is built on UofL research that uses VR to help patients test different models and program their hearing aids, all without leaving the comfort of the clinical setting. 
As one of just six early-stage businesses selected for this year's Vogt class by the Community Foundation of Louisville, the Immersive team — co-founders Jeff Cummins and UofL researcher, Matthew Neal — received $25,000 in non-dilutive grant funding, participation in a 10-week startup accelerator program, coaching, mentorship, strategic introductions and recognition designed to boost the growth of their business.
Cummins, a seasoned founder who previously served as an entrepreneur-in-residence in the UofL Office of Research and Innovation, said he was attracted to the technology and ultimately came on-board to launch the startup because it tackles a problem he himself has faced. 
"I wear hearing aids and I know the challenges faced by individuals with hearing difficulty," he said. "The technology has an opportunity to be a platform that revolutionizes how hearing aids are provided by allowing patients/users to listen to the hearing aids before they purchase them."
According to the National Institutes of Health, one in eight Americans over the age of 12 have some degree of hearing loss and about 28.8 million adults could benefit from using hearing aids.
With this tool, audiologists could use a VR headset, tablet computer or a wide screen display to demonstrate how specific hearing aid models and settings would perform in different, realistic environments, such as a school, noisy restaurant, grocery store or church. Neal and his research collaborators developed the technology to help patients find the right fit.
"We want to help people choose the hearing aid and get it programmed specifically for the specific environments where they have trouble," said Neal, of the UofL School of Medicine. "With virtual reality technologies, you can do that without leaving your audiologist's office."
Neal and collaborators have worked closely with the UofL Office of Research and Innovation and its UofL New Ventures and intellectual property teams, who help translate research into products and commercialize them by partnering with industry or launching new companies. The office provided support for intellectual property and product development, entrepreneurial training and coaching, and a connection to Cummins. 
As part of that support, the team participated in several of UofL's innovation and new venture programs, including both the UofL site and prestigious national NSF's Innovation Corps (I-Corps) programs for technology-backed startups. They also participated in the Pandemic-Related Product Acceleration & Responsive Entrepreneurship Program, or PRePARE, which partners UofL researchers with companies and members of the community to scale up innovative ideas addressing health, economic and societal issues caused by pandemics. 
The team also completed LaunchIt, UofL's eight-week product innovation bootcamp, and received coaching from multiple UofL entrepreneurs-in-residence. The entrepreneur-in-residence program is a partnership with Amplify, an organization working to grow Louisville's entrepreneurship ecosystem, with funding from the Kentucky Cabinet for Economic Development.
"The support of these programs and the Office of Research and Innovation team was invaluable in developing the technology to this point," Neal said. "We look forward to continuing to work with the team to further develop, and ultimately launch, this product that could really improve the lives of those with hearing difficulty."