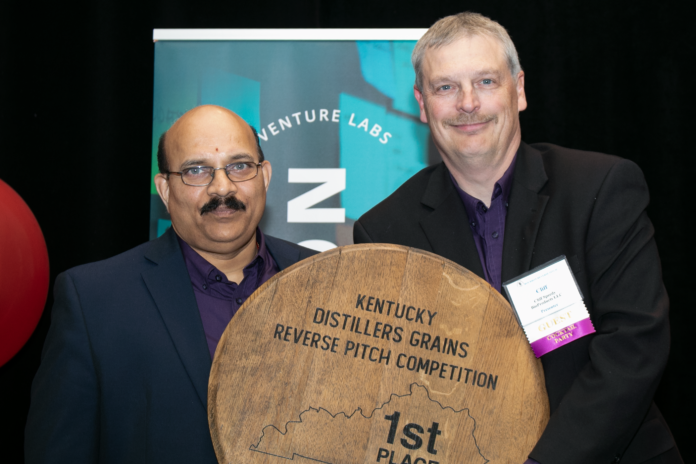 Two startups backed by University of Louisville research-born technologies have been named among Business First's 22 Kentucky 'Startups to Watch' in 2022.
The two UofL startups, BioProducts LLC and OrgVitals, will be formally recognized in a February live event. To be eligible, startups must be based in Kentucky, have been founded five or fewer years ago and have total raised capital of less than $25 million.
BioProducts is built around UofL-patented technology that gives new life to local distillery organic-based byproducts, for example, as a low-calorie sugar substitute and as specialized activated carbon suitable for a number of high-performance applications, particularly lithium-ion batteries. 
The technology was invented by Jagannadh Satyavolu, of the UofL Conn Center for Renewable Energy Research, in collaboration with Michael Nantz and his team in the UofL chemistry department, and recently took the top spot at the Distillers Grains Reverse Pitch competition.
OrgVitals, which grew out of Unitonomy studio, is a startup leveraging UofL-born intellectual property for employee engagement data and analysis — used for predictive modeling to create healthier places to work. 
That technology was invented by Brad Shuck, an organizational culture and applied behavioral economics researcher in the UofL College of Education and Human Development (CEHD). The license was the first from CEHD, and the first to be supported by the UofL Office of Research and Innovation's entrepreneurs in residence program, which brings in seasoned founders to help guide the university's research-backed technologies to market.
UofL supports entrepreneurs through its UofL New Ventures office, which works to launch and grow startups built around UofL intellectual property. Aside from the entrepreneurs in residence program, the office also supports startups through LaunchIt, a 10-week entrepreneurship and innovation bootcamp, and through a prestigious suite of grant programs aimed at translating university research into products.
"We're so proud of these UofL startups and the work they're doing to further innovations that improve the way we work and live," said Will Metcalf, an associate vice president for research and innovation who leads UofL New Ventures. "This recognition is proof-positive of that, and I can't wait to see what they accomplish."