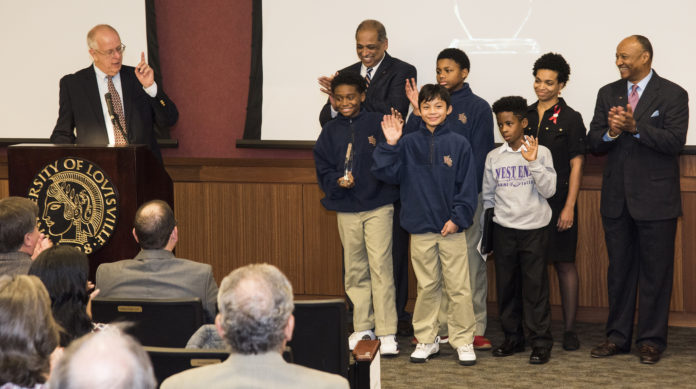 Winners of the Eighth Annual Community Engagement Awards were celebrated Oct. 26 with a reception and ceremony at Chao Auditorium in Ekstrom Library.
The UofL Outstanding Community Engagement awards recognize extraordinary community involvement by faculty, staff, students and community partners. Each winner received a monetary award of $2,500 and their names were added to a plaque that hangs outside Chao Auditorium.
This year's winners were:
Student Engagement: Joshua Wilcox
Joshua, a junior civil engineering major, is using his engineering skills to make a difference in Third World countries. After years of being involved in Louisville's LV1 hacker space, he is borrowing the hacker space concept of providing access to tools and training as a way to tackle issues in low-income communities around the world.
Faculty Engagement: Jeff C. Falcone, PhD
Jeff is an associate professor of physiology in the School of Medicine. His volunteer work with students of all ages is as varied as the students whose futures he is helping to mold.
For the past decade, Jeff has helped launch more than 800 students into various health-related fields. As program director of the Summer Medical and Dental Education Program, he works to make sure each student is prepared to meet the rigorous requirements of a professional career in a science field.
He also is active every fall during Physiology Understanding Week teaching eighth graders about cardiovascular physiology and health. He trains the eighth graders in methods to teach first graders about cardiovascular health, and his model is used throughout the United States and Puerto Rico.
Jeff also volunteers his time-building sets for local high school theater departments. He explains the science and physics behind the construction and also teaches the students about the technical aspects of theater, the proper and safe use of power tools and the power of creative and collaborative problem solving.
Staff Engagement: Kristofer Rau, PhD
Kristofer is a senior research associate in the anesthesiology department. In spearheading outreach efforts for the Louisville Chapter of the Society for Neuroscience, he has helped increase science education and literacy, particularly regarding nervous system function and disease, and also about careers in neuroscience research. In 2015, he partnered with the Kentucky Science Center to set up hands-on workshops to educate the public about the nervous system.
Kristofer has also conducted presentations about his career path, relentlessly recruiting faculty, graduate students, postdoctoral fellows and staff to become active participants in the community.
Community Partner: West End School
West End School, a free, private college preparatory elementary and middle school for boys, strives to create a culture of high expectations and achievement. It opened in 2005 to answer the growing need for alternative forms of education for young men who come from challenging backgrounds.
Its many partnerships with UofL include a percussion program with the School of Music and an art therapy program with the College of Education and Human Development; social work practice opportunities for students in the Kent School of Social Work; counseling for students with behavioral problems through the School of Medicine's psychiatry department; and a maker space for students created by the J.B. Speed School of Engineering. The Speed School also provides weekly tutoring sessions and will offer up to five full-tuition scholarships to West End School graduates who earn their high school diplomas in spring 2018 and beyond.
Lifetime Achievement Award: Alice K. Houston, president and CEO, Houston-Johnson Inc.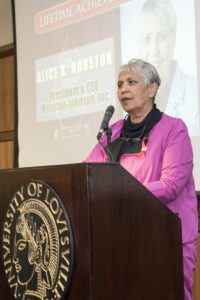 Alice K. Houston, president and CEO of trucking and logistics company Houston-Johnson Inc., began her long association with the University of Louisville after she returned to the United States from France with her husband, former basketball player and coach Wade Houston. She earned her MEd in College Student Personnel Services at UofL and worked in the financial aid office. She left UofL in 1988 to join a series of family businesses that collectively became the second largest minority-owned company in the United States and the largest minority owned transportation company in North America during the 1990s. She became president and CEO of Houston-Johnson in 2005.
She served as co-chair of the University Community Partnership Advisory Board, the panel that recommended the creation of UofL's Signature Partnership Initiative with West Louisville. She recently was appointed to the board of directors of the UofL Foundation.
She also serves on the boards of 55,000 Degrees and 15K Degree Initiative, Simmons College of Kentucky and Greater Louisville Inc. She has been an active fundraiser for, among others, Big Brothers/Big sisters of Kentuckiana, Boys and Girls Club of America, United Negro College Fund and the Louisville Urban League.
More on the awards is available online. Photos from the event are also available online.