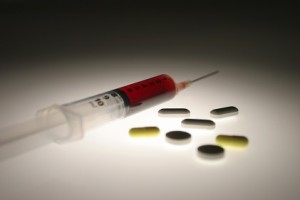 On March 29, the University of Louisville School of Medicine joined with 60 other schools and colleges of medicine from throughout the United States in support of new actions to address prescription opioid abuse and the national heroin epidemic.
President Barack Obama joined individuals in recovery, family members, medical professionals, law enforcement officials and other leaders at the National Rx Drug Abuse and Heroin Summit in Atlanta, Georgia.  The annual summit is organized by Operation UNITE, which was launched by Kentucky Rep. Hal Rogers.  As part of the event, the President announced these additional public and private sector actions to escalate the fight against the prescription opioid abuse and heroin epidemic, which is claiming the lives of tens of thousands of Americans each year.
The President has made clear that addressing this epidemic is a priority for his Administration, and today's actions represent further steps to expand access to treatment, prevent overdose deaths and increase community prevention strategies.  These actions build on the President's proposal for $1.1 billion in new funding to help every American with an opioid use disorder who wants treatment get the help they need.
The UofL School of Medicine is one of two medical schools in Kentucky signing on its support of the endeavor. Beginning in fall 2016, these medical schools and colleges will require their students to take some form of prescriber education, in line with the newly released Centers for Disease Control and Prevention Guideline for Prescribing Opioids for Chronic Pain, in order to graduate.
The complete list of schools and colleges and more information is available on the School of Medicine website.