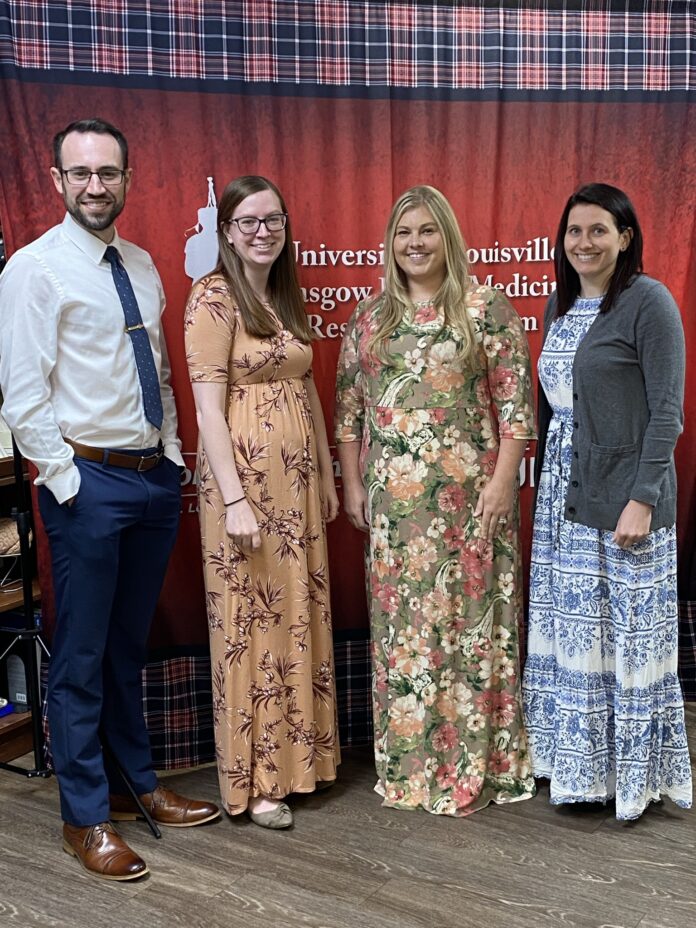 While Elizabethtown, Kentucky, native Dillon Pender was a medical student at the University of Louisville, he realized that life and medical practice in an urban setting were not a good fit for him.
So, he chose a family medicine residency program that was close to his hometown and offered the environment of a community-based hospital.
"The Glasgow Family Medicine Residency is the best of both worlds," Pender said. "As part of UofL, it offers the privileges and resources of a major institution, and as a community hospital, it provides the autonomy you can only have outside a large health care system."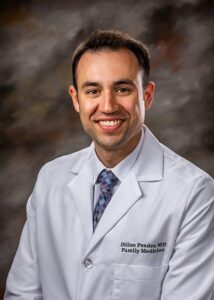 And now that Pender has completed his residency, he plans to stay in Glasgow, serving as a hospitalist at T. J. Samson Community Hospital and caring for the community's population. That is a win both for the community of Glasgow and the Commonwealth of Kentucky.
A shortage of physicians has threatened the health of residents in rural communities in Kentucky for more than three decades. Approximately 40% of Kentuckians live in rural areas, yet only 17% of primary care physicians practice there, and Kentucky ranks 43rd nationally in its supply of primary care physicians relative to its population.
Primary care physicians – those in family medicine, internal medicine, pediatrics or other general health disciplines – ensure access to cost-effective management of illness and disability. Since more than half of physicians practice within 100 miles of where they do their residency training, it is important for physicians to train in the smaller communities where they are needed.
The UofL School of Medicine leads two family medicine residency programs in smaller communities in the state so that small and rural communities in Kentucky and beyond have access to primary care physicians.
The Glasgow Family Medicine Residency Program trains resident physicians in the south-central Kentucky community of approximately 14,000, preparing them to practice in a similar small or rural community. Glasgow's T.J. Samson Community Hospital is the primary clinical training site for the residency program and was named one of  the Top 100 Rural & Community Hospitals for 2021 by the Chartis Center for Rural Health.
R. Brent Wright, associate dean for rural health innovation at UofL, was director of the Glasgow Family Medicine Residency Program from 2002 to 2013.
"In terms of a residency program, if you have a community that embraces graduate medical education, like Glasgow has done, they are taking a long-term approach for serving their stakeholders, " Wright said.  "They are making a commitment to those they treat for decades to come. They know that by training physicians in a close-knit and caring community, they will most likely stay within that community, close by or in a similar setting."
The program's 24-year track record bears out its mission. Approximately 70% of the more than 80 physicians who have completed training in the program still practice within a 90-minute drive of Glasgow, including Wright, Pender, a 2021 graduate, and Kara Gilkey, who now leads the hospital's emergency department.
Building on the success of the Glasgow program, Wright assisted with the creation of the University of Louisville Owensboro Family Medicine Residency Program, launched in 2020. As the academic sponsor for the program, UofL provides not only experience, but residency director Jon Sivoravong and other faculty. The three-year program currently has 13 residents and is approved for up to 18, graduating an average of six family medicine physicians per year.
UofL medical students also can become familiar with rural medicine during their medical school years. Through the School of Medicine's Trover Rural Track, UofL medical students can complete their final two years of medical school in Madisonville, a community of about 20,000 in southwestern Kentucky. Currently, 51% of Trover students who have completed their training initially chose a rural practice, and 48% of students from rural Kentucky are now in a rural Kentucky practice.
"To get physicians to practice in a small town, you have to admit students who are from a small town and train them in a small town," said William Crump, associate dean of Trover Campus for the UofL School of Medicine.
Crump and his colleagues at UofL and Baptist Health Madisonville also prepare students from rural Kentucky communities for careers in health care through the High School Rural Scholars and College Rural Scholars programs. Of the 290 students who have participated in High School Rural Scholars, 75% have completed some type of health career training program. Of 97 students who have completed the College Rural Scholars program, 50 are either enrolled or have graduated from medical school.
For Pender, living and practicing in Glasgow is the right choice. He said many physicians who practice in urban areas are missing out on great opportunities in smaller communities, citing less traffic, a lower cost of living and friendlier people, as well as a wider scope of practice for primary care physicians since access to sub-specialty care is not as readily available. 
"For most of the physicians in an urban environment, the countryside is not on their radar. They think there is nothing here," Pender said. "But there is a lot of opportunity here and you can make a good life."