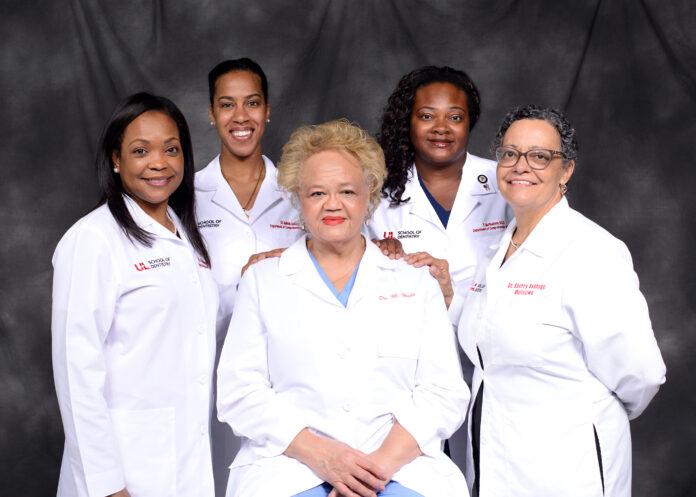 When Madeline Maupin Hicks first entered UofL's School of Dentistry in 1971, she did more than open the door to a building — she opened the door to a career in dentistry for many who followed.
Hicks was the school's second African American student (Harold Howard had graduated the year prior), and the first African American female. After leading a successful dental practice, Hicks returned to UofL, where she serves as a role model and mentor. She shares insights about her life experiences through this Q&A.
Please describe your experience as a student at the UofL School of Dentistry.  
The first day of school, I was not aware that I would be the only African American student. I had graduated from Indiana University at Bloomington where there was a good mix of students. It had not occurred to me that I would feel the isolation that I felt those first few weeks in dental school. I believe the experience at Fisk University, an historically Black university, where a strong sense of the strength and the abilities of Black people, together with my success at IU prepared me to thrive at ULSD in these special circumstances.
I was the first African American person with whom many of my classmates ever had a one-on-one conversation. It took two years before some of my classmates realized that I was a really good student. At the same time, I also had the respect and friendship of many of my classmates early on. We will celebrate our 45th reunion this year. This should have happened in 2020, so it is now 46 years that we have been dentists!
What is most memorable about your time as a student at the School of Dentistry? 
The most memorable time while in school was when my husband and I welcomed our son into the world, during my junior year. I think I was the first female student to have a child while in school.
The second most memorable event was the day I learned I had the highest score on our final examination in endodontics. It was a tough exam. My classmates were upset that I set the curve so high. I was stunned. Dr. Mendel, our course director, wanted to know if I wanted him to help me get into a graduate program. I declined. I enjoyed all of dentistry and did not want to specialize. At that time, I also thought it would have been difficult for an African American endodontist to get enough referrals from the dental community to sustain a practice.
Do you consider yourself a trailblazer?
I believe my success in school may have made it a little easier for those who followed me. Some instructors initially had some reservations about how well I would do. We tried to help underclassmen who followed with tips to help them succeed with lab work, along with discussions about life. After I graduated, several students shadowed me or completed their Area Health Education Centers experience in my office.
What challenges did you face and overcome as a dentist? 
The biggest challenge when I started my practice was to educate my patients on the benefits of prevention and retention of teeth with periodontal and endodontic care. Most African American patients were accustomed to coming to the dentist when they had a tooth ache. By then, they expected, and many times needed an extraction. We used lots of aids, videos, etc., to change this mindset.
Tell us about your career in private practice.  
I set up my practice in the Doctor's Office Building at 250 East Liberty. It was one of the nicest medical professional buildings in the city at the time. I wanted to set a different level of expectation for my patients. Most offices had been above drug stores or other smaller locations. I stayed there for 11 years.
In those early days, sometimes patients would question if I had enough strength to 'pull' a tooth. We also faced some racial prejudice from both white and Black patients who did not know that I was African American before arriving to their appointment. I also learned that I was seeing as many patients for similar procedures as white practitioners, but made less money. The majority of our patients had insurance plans that compensated less than 'fee for service' that many white dentists were able to require.
In 1986, I purchased an office building on East Broadway. The practice had an integrated office staff and patient pool. My patients were like family. One thing about general practice that is different from a specialty practice is that you see your patients, their children and their grandchildren over the years. I miss those relationships today.
In 2004, you stepped back through the doors of the dental school to become a part-time faculty member. What inspired you to return to the school? 
I have always wanted to teach the next generation of dentists. I come from a family of educators. Our dinner conversations often involved discussions about how to help children learn. My parents were committed to making a difference in their student's lives. I wanted to do the same.
Talk about your role as a mentor for students of color. How do you admonish and encourage their success? 
I love to encourage and assist all students, but I have walked alongside many African American students over the years. Sometimes, we have helped them solve family-related issues, such as a need to find a babysitter. Other times, I have helped with dental projects in dental anatomy, restorative work, etc. 
I have been a mentor and encourager. I want students to know that dental school is hard, but they can meet the goals. What seems hard today, will be gone tomorrow. Faculty are here to help them succeed. Ask for help when you need it. When things are scary, feel the fear and do it anyway, you will be on the other side of the trial soon enough.
What general advice do you have for today's dental students? 
Learn from each instructor. We may use a different technique or instrument to solve the same problem. Know that when your instructors challenge you to think about how to solve a problem, we are helping you to be independent, thoughtful clinicians. We challenge you here so that this process will be automatic when you are all on your own – think critically!
What do you hope will be your lasting legacy? 
I hope history will see me as a person of color who helped to level the field in dental education. I hope I am an example to other African American students, showing them that they, too, can face difficult situations and succeed. I hope I have helped patients with excellent dental education and care. We have not won everyone over, but many apprehensive patients have become excited or at least know what to expect when they once were apprehensive.
I hope I have influenced students to lend a hand to the next generation, to give by service through community and international missions, to know that we should continue to learn and grow for a lifetime. Have a well-rounded life, with interests outside of dentistry.
Anything else you'd like to share? 
I have a concern for the degree of depression, anxiety and fear of the 'next step,' that many young people are experiencing today. If you are in a dark place that you don't seem to be able to rise above, seek medical advice. But many times, there is an attitude, a way of thinking about yourself in relation to a difficult problem that can change. It seems that often students think the solution is all totally on their shoulders, and don't see a way out of the problem.
When I have faced difficult times, I never felt like I was all alone. I have trusted that God will be with me, guiding me, walking with me through the storm. The situation will pass. The problem may not be solved the way that I originally thought, but we will press on and succeed.