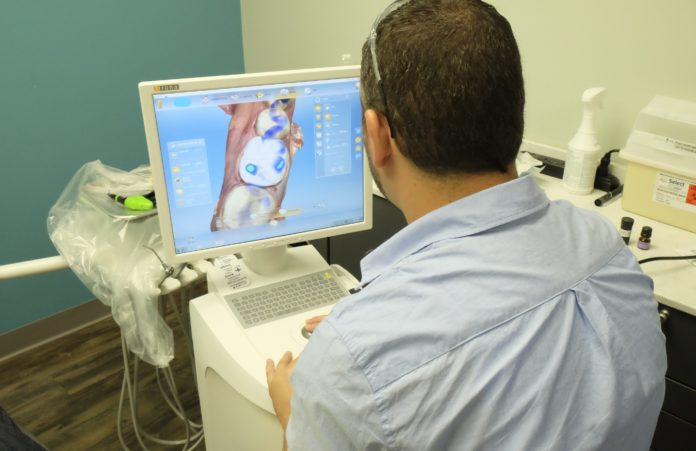 Tooth loss can lead to poor nutrition and is linked to systemic diseases such as diabetes and coronary heart disease. Missing teeth also affects a person's psychological well-being and ability to function in the workplace. According to the Centers for Disease Control and Prevention's National Health and Nutrition Examination Survey, nearly 40 million Americans have no teeth in one or both jaws.
During National Prosthodontics Awareness Week, April 2-8, the University of Louisville School of Dentistry Postgraduate Prosthodontics Clinic is educating the public about tooth replacement options and oral health issues.
"Until recently, false teeth looked and felt false. Prosthodontists are using digital technology to change the way dentistry is practiced and producing results not possible until now. We are using new techniques to replace and restore teeth to a higher level of precision and beauty than ever before," said Gerald T. Grant, DMD, MS, FACP, FAAMP, professor and interim chair of the Department of Oral Health and Rehabilitation, UofL School of Dentistry.
How digital dentistry is changing practice 
There are a number of ways digital dentistry is changing the entire practice, including:
Computers and scanning technology take tooth restoration to a new level. Teeth can be viewed in 3-D and restorations can be customized for each patient. This allows more control by the prosthodontist and better outcomes.
Prosthodontists digitally capture information from the patient's mouth, minimizing patient discomfort and reducing the number of appointments. Specialized training equips prosthodontists to translate the information into a patient-specific crown design, implant or other solution for improved esthetics and comfort.
Prosthodontists using digital techniques and ceramic material can custom-design, fabricate and place a crown in a much shorter amount of time than in previous decades, in many cases the same day.
Traditionally, removable dentures and conventional bridges were the sole means to replace missing teeth. Now dental implants, which are virtually permanent, offer improved function and comfort. Dental implants are mechanically and biologically superior to previous restorative options and do not overload or damage surrounding teeth.
"When you lose even a single tooth, it will result in bone loss, change the bite and result in adjacent teeth moving toward the missing space. The longer a person waits to get it replaced, the more challenging the clinical situation," Grant said.
The UofL School of Dentistry covers the full scope of prosthodontic and restorative dental care, utilizing the latest technologies in radiographic imaging, diagnostic methods, advanced surgical and restorative techniques, and dental laboratory support.
Working closely with colleagues from various dental disciplines at UofL, comprehensive treatment is available for patients with challenging dental conditions and problems. Treatment is performed by licensed dentists in UofL's highly-competitive prosthodontic residency program. For an appointment or more information, call 502-852-3482.