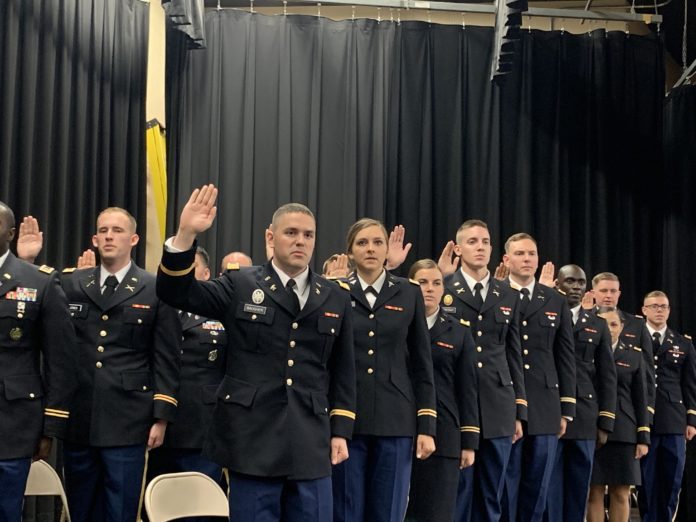 The Army and Air Force ROTC traditionally hold commissioning ceremonies the day before UofL's commencement. The ceremonies include having family or friends pin officer bars to the cadets' uniforms (the "pinning") and getting their first salute as an officer, frequently from a family member who served.
The ceremonies cannot take place in a crowded auditorium this year due to the COVID-19 pandemic restrictions on large gatherings. But a little creative thinking is producing two unique events.
The Army ROTC, the Cardinal Battalion, will hold a virtual commissioning ceremony beginning 10 a.m. Friday, with cadets participating from home. It will be held on Microsoft Teams and broadcast live on Facebook. (Go to the UofL Army ROTC Facebook Page: www.facebook.com/uoflarmyrotc/)
"Basically, we are doing a full commissioning, just not in person," said Major Michael J. Dargavell, military science department chair and commander of UofL's ROTC. 
The four Air Force cadets will each have individual ceremonies, said Lt. Col. O. Peter Day, aerospace studies professor and commander of the Air Force ROTC Detachment 295.
The following Army cadets will be promoted: John Gabriel Collins (political science), Zackary Thomas Golding (criminal justice), Zachary Michael Hynes (criminal justice), Paul Thomas Wallenhorst (criminal justice), Jared Zorade Harper (communication), Jordan Elaine Temme  (communication), Seth Coomes (middle and secondary education), Lisbeth Melchor (organizational leadership and learning), Richard William Goodman  (human resource and organization development), and Akissi A. R. Kouassi (human resource and organization development). Also promoted was Nolan Wesley of Bellarmine University (communication).
UofL's Army ROTC has commissioned more than 400 officers during its 38-year history.
The four members of the U.S. Air Force's 295th Air Force ROTC Cadet Wing to be commissioned were: Melanie Finch (criminal justice), Cameron Payne (aerospace engineering), Lacey Parham (law) and Joshua Moore (applied geography).