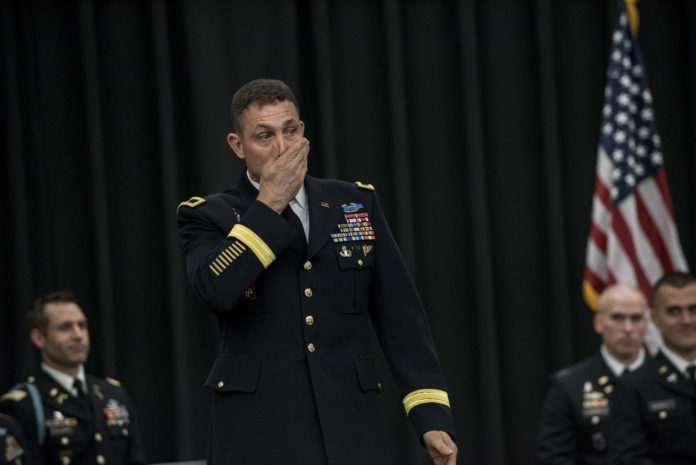 In two separate ceremonies, 11 University of Louisville Army ROTC students and three Air Force ROTC students became commissioned officers May 12.
During the Cardinal Battalion Army ROTC ceremony in Middleton Auditorium, the cadets were each commissioned a second lieutenant and assigned to their branches, including infantry and the nurse corps. All will be active duty soldiers.
The new Army officers bring to 427 the total number of officers UofL's Army ROTC has commissioned during its 35-year history.
Guest speaker Brig. Gen. Brian Mennes, who served in Korea, Iraq and Afghanistan and is the Army's director of force management, introduced the group as the next generation of U.S. Army leaders.
"We serve to defend what is the most powerful document in the history of mankind: the Constitution," Mennes told the new officers and their families and friends.
Mennes encouraged the new second lieutenants to be caring, selfless, gifted leaders, adding they need to be fit not just physically, but mentally and spiritually, too.
Lt. Col. Jessica Murnock, UofL professor of military science, said in opening remarks that the commissionees had a combined average GPA of 3.64, and included two who were receiving master's degrees.
In both ceremonies, each new officer received a commission certificate, then family members or friends pinned bars to the service members' uniforms.
The tradition of the first salute followed, in which the new second lieutenant presented a silver dollar to the first enlisted person who rendered a salute.
The following were commissioned: Steven Bidwell, Nathaniel Cook, Louis Faust, Samantha Frank, Victoria Henry, Nicholas Kenrick, Joshua Nobile, Clayton Stanley, Eric Thompson, Monica Willard and Connor Williams.
See more Army ROTC photos here.
During their ceremony in Ekstrom Library's Chao Auditorium, the following Air Force cadets were promoted to second lieutenant: David Lewis, Aaron Patterson and Isabella Proctor.
The Air Force cadets are part of the 295th Air Force ROTC Cadet Wing, led by Lt. Col. Jerry Crigger.
The A.J. Kramer Wingman Award was given to Patterson. Named in honor of Anthony Joseph "A.J" Kramer, an Air Force ROTC cadet who was within months of graduating from UofL in 2013 when he was killed in a motorcycle accident, the award is voted upon by the cadets to honor a graduating cadet who provides exemplary support, leads by example and demonstrates strong integrity, initiative and diplomacy.
See more Air Force ROTC photos here.
Video of the Army ROTC is below: