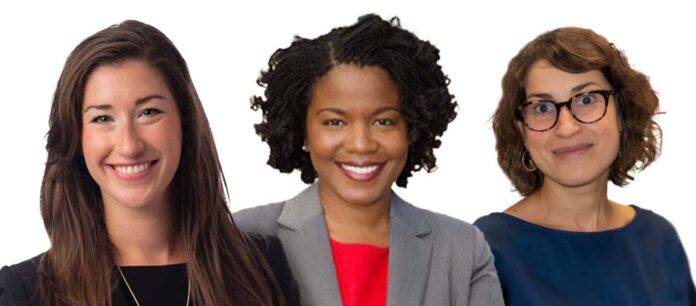 Knowledge is power, right? Well, what if that path to understanding is strewn with jargon – scientific and legal terms – that keeps people from gaining the knowledge they need to make informed decisions?
UofL student-led teams are endeavoring to help some Louisville neighborhoods access understandable, useful information that might affect their health, specifically as it relates to air quality.
The project is one for the Public Health Literacy Group, a coalition of academic scholars, community leaders and activists focused on making the science of public health more accessible. The work recently got a $250,000 boost from the Humana Foundation as part of its ongoing Community Partners Program.
The team includes three UofL scholars – Megan Poole from English, Shavonnie Carthens from law and Abigail Koenig from business – who, with their students, have banded with District 3 Metro Councilwoman Keisha Dorsey, grassroots organization Rubbertown Emergency Action (REACT) and the nonprofit Kristy Love Foundation.
Dorsey's western Louisville district includes several neighborhoods involved in environmental justice efforts related to air conditions stemming from large chemical plants and other industries in an area locally referred to as Rubbertown, named after tire and synthetic rubber plants built there during World War II.
The project began when Poole was invited to a western Louisville organization's board meeting to explain how she has her students work with nonprofits and community groups on their writing projects to gain useful experience.
"I believe you learn best by doing, so I try to give them real-world assignments and real-world prompts," Poole said. "And that's also how you kind of learn the messiness of business."
In the audience was Dorsey, who approached her afterward seeking help to translate information that comes out about air pollution into something that her constituents can potentially care about and understand.
Poole, still in her first year at UofL, turned the issue over to her "Writing for Social Change" class last spring. Her students decided there needed to be a website where this material could be housed, and they created infographics to make information more comprehensible. 
"They discovered there was no central hub to talk about the science of air pollution or file complaints or ask questions," she said.
So now student workers under the direction of Koenig in the College of Business will be working on a website, testing with the community and handling the data analytics, trying to see how people engage with the material and how to increase their engagement.
Through Carthens, a legal writing intern from the Brandeis School of Law is helping work on the language of announcements and information in hopes of making legal notices more easily comprehendible as public health notices.
The Kristy Love Foundation, a survivor-led organization that helps women suffering from traumas including human trafficking and abuse, will help with community focus groups. Women there will be hired to help the team choose locations for the group meetings and to spread the word through canvassing the affected neighborhoods.
The team will rely on neighborhood involvement and serious listening to direct the way citizens want to receive their information, whether it be digitally, on paper or via other ways.
"It really is a community project. What do you know about air pollution? What do you want to know? How do you currently receive this information, if at all," Poole said. "We feel like before you create information for a specific audience, you have to find out how they want the information."
The team also will be relying on the longtime, justice advocacy work and knowledge of the REACT group.
At UofL Poole and the other faculty members involved let the students try new things and see what works best to meet community needs.
"They are using the skills they learn to really make a difference now, as opposed to hypothetically one day," Poole said. "It helps them grapple with what work looks like in the real world. I'm excited about it."