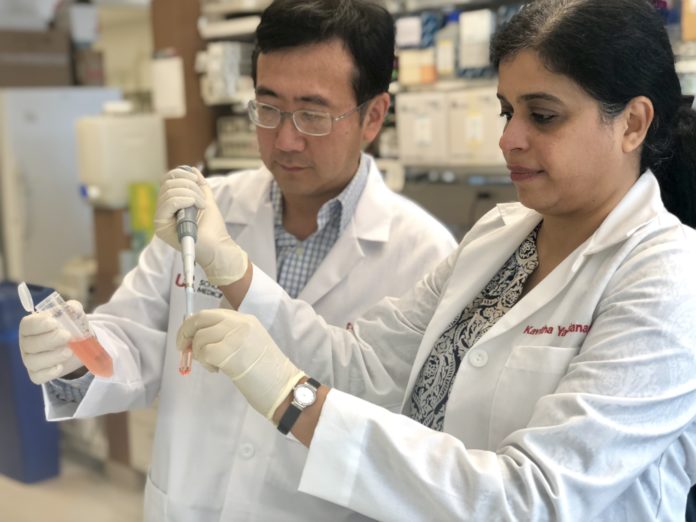 Vaccinations protect us from all kinds of terrible diseases — polio, small pox, influenza. But what if a vaccine could protect you from cancer?
Researchers at the University of Louisville are developing a new vaccine for lung cancer that's stable and scalable, in addition proving as much as 80 to 100% effective at preventing certain tumor growth in mouse models.
Prevention is key because, while conventional treatments and therapies may kill most of the cancer, a small percentage of cells are resistant. Those are cancer stem cells, which have the ability to reproduce and sustain the cancer.
"Those cells sit there, and they have the capability of regrowing the entire tumor by themselves," said co-inventor and assistant professor of medicine, Dr. Kavitha Yaddanapudi.
A vaccine sidesteps those cells by helping the body build immunity to cancer before it develops. So far, the UofL vaccine has been tested against lung cancer and melanoma in mice, and 80 to 100% of the vaccinated mice used in each animal trial were cancer free when compared to the non-vaccinated control group.
The research team hopes to develop the vaccine to be effective against all cancer types and is now working toward human trials. They're working with the UofL Commercialization EPI-Center to protect and commercialize the intellectual property.
The vaccine contains vesicles isolated from embryonic stem cells, an idea inspired by observing that women who have had multiple children seem to be less likely to develop cancer.
"That brought up the idea that cancer cells and embryonic cells were pretty similar," said co-inventor Dr. John Eaton, a professor emeritus in medicine, pharmacology and toxicology at UofL. "And it turns out that's true."
Through development, the team was able to streamline the vaccine, giving it a longer shelf life, more stability, and making it easy to make in large quantities.
"We tried to simplify, simplify, simplify," said co-inventor and an associate professor of medicine, Dr. Chi Li.
The research to now has been primarily backed by $325,000 in grant funding from the National Institutes of Health. They're now looking for funding to support additional research and development.
Check out more about the trials in the video below: 
Listen to the team's interview with Mark Hebert on UofL Today.