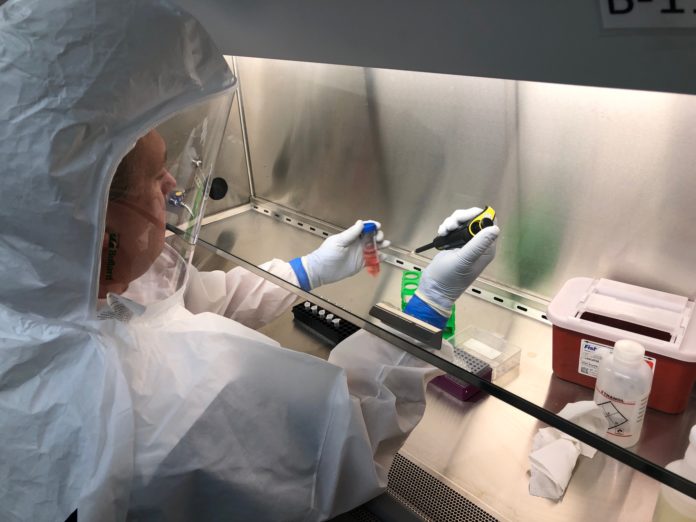 If the SARS-CoV-2 virus is to be contained and cases of COVID-19 controlled, more knowledge is needed about how the virus is spread, who becomes ill and how the illness progresses. The University of Louisville is already at work to answer these urgent questions to reduce the impact of the global pandemic.
Infectious disease researchers at UofL are working with all 10 Louisville hospitals and two in southern Indiana, including UofL Health, Norton and Baptist, to process tests and study the illness in order to gather information needed to prevent transmission of COVID-19. Julio Ramirez, MD, chief of the Division of Infectious Diseases, and Ruth Carrico, PhD, RN, professor in the division, along with Donghoon Chung, PhD, and Kenneth Palmer, PhD, director of the Center for Predictive Medicine for Biodefense and Emerging Infectious Diseases (CPM), have developed a surveillance program to track the prevalence of the illness and which patients are most affected. 
"I think the big issue is understanding the emergence of this illness and the pandemic response in terms of where the cases are, how many cases we're seeing and among what types of patients," Carrico said. "This study will help us better understand risk factors and how we need to approach it from a preventive perspective," Carrico said.
Because this virus is so new, health professionals do not have as much information about how the disease presents initially and how it progresses as they do about other diseases that have been studied for decades. They also still need a better understanding of how the virus, SARS-CoV-2, is spread. The work being done at UofL will help provide that knowledge.
"With the information we are gathering, we will better understand how transmission occurs. When we understand how transmission occurs, that provides us the tools we need to develop some effective interventions," Carrico said.
The development of testing for this research has been led by researchers at the CPM, where Chung worked to establish and refine procedures for high-throughput testing of more than 350 clinical samples per day for the research.
This information is needed not only to protect the community, but to protect health care workers from becoming ill. In China and elsewhere, doctors and nurses contracted COVID-19 at high rates, which affected their availability to care for ill patients. The information gained through the surveillance program will be used to generate guidelines for real-time hospital and community education and response activities, reducing spread in hospitals and protecting health care workers on the front lines.
Over time, the surveillance project will reveal not only the current scope of the pandemic in Louisville and beyond, but will monitor the epidemic over weeks and months, allowing the researchers to predict the impact of the virus in the future. 
Notably, this research comes on the heels of UofL's Division of Infectious Diseases having been selected by Pfizer as its first Global Center of Excellence. 
The university is supporting this research with $500,000 in funding, but additional funds are needed to continue the research over time. Donations specifically for this research
can be made online here
.