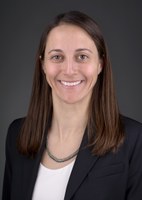 Can living in a "greener" area lower your risk for breast cancer? The Boston Mammography Cohort Study aims to answer this question, and a University of Louisville professor has just been awarded a $50,000 grant to contribute.
Natalie Dupré, ScD, MS, is the recipient of a grant from the Jewish Heritage Foundation for Excellence Fund. Dupré, who currently teaches epidemiology methods courses for the Master of Public Health program at UofL's School of Public Health and Information Sciences, has dedicated her career to understanding the ways in which environmental factors affect cancer development and progression.
Throughout the course of eight years (2006-2014), a diverse group of women consented to be a part of the study, receiving mammograms from the Brigham and Women's Hospital in Boston as part of the process. Researchers have studied the ways in which body mass index, race and ethnicity, child-bearing, menopause, and many other factors impact the risk for developing breast cancer; now, researchers are widening the scope to include the environment.
"The environmental factor that we will focus on here is residential 'greenness,' which is the amount of natural vegetation that surrounds one's home that is measured by satellites orbiting the Earth," said Dupré. "A couple of recent studies have reported that living in greener urban areas was associated with lower breast cancer risk."
However, Dupre adds that it is unclear how natural vegetation could influence breast tumor development.
"With this project we will begin to study whether natural vegetation influences breast biology, as measured by mammographic density, and the extent to which living in greener areas is associated with health-seeking behaviors that may need greater attention in future studies of greenness and breast cancer risk," she said.
Dupré will be working alongside researchers in Boston at the Brigham and Women's Hospital, Massachusetts General Hospital and the University of Louisville, including a team of 10 doctors and several undergraduate and graduate students.
This is the first time Dupré has been awarded by a grant from the Jewish Heritage Foundation for Excellence.
"I am very grateful for their support of early career investigators that has enabled our research team to grow and to address these important interdisciplinary research questions on how the environment around us influences (or doesn't) breast health," Dupré said.