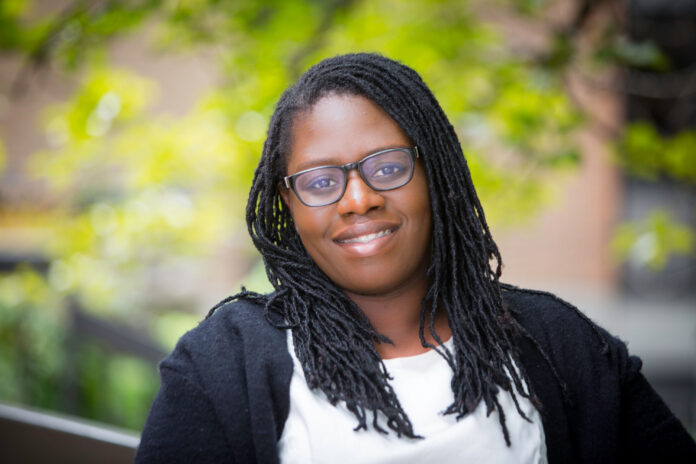 UofL School of Public Health and Information Sciences faculty member Aishia Brown is exploring how to eliminate barriers youth experience when transitioning to adulthood. Supported by two new foundation grants, Brown and a team of researchers and practitioners at SPHIS' Center for Social Justice Youth Development Research are building a professional development program for youth development professionals. UofL News caught up with Brown to learn more about her research aimed at addressing root causes of inequities.  
UofL News: What are the main struggles for youth transitioning to adulthood? 
Brown: It is important that we not only think about young people as "the future." They hold a lot of power now, whether adults want to acknowledge it or not. For example, we have a number of youth across the country currently advocating for safer school environments related to both the COVID-19 pandemic and censorship bills being passed that prevent them from learning about the history of the world we live in. I believe that one of the biggest barriers youth experience today is related to systemic racism and oppression. These are the root causes of a lot of the issues we see youth experiencing today.
UofL News: How can we make it easier for young people to succeed throughout life? 
Brown: Adults, especially those in positions of power, should learn about the importance of understanding how critical it is to have youth who come from historically excluded backgrounds at the table when making decisions that directly impact them and their communities. These young people should be able to have a say in what policies are created and enforced, not just in the realm of education but in every single system that impacts their wellbeing. This includes our political, social, economic and education systems.
UofL News: You hold a PhD in recreation, park and tourism sciences with a concentration in youth development. Some of your work examines recreational healing spaces. Can you explain the meaning and how these spaces are so important for youth development? 
Brown: When it comes to youth development, we tend to only view it through the lens of education. However, what we know is that the education system does not always have the capacity to support youth within the context of their communities. We also have a great deal of evidence on certain groups of young people, such as Black and Brown youth, being pushed out of school into the criminal legal system due to inequitable policies and practices that exist within the education system. With that knowledge, I focus my work on community spaces where youth find safe havens and safety. These spaces, like a community center, boys and girls club, summer camps, have the power, resources and abilities to cultivate healing spaces for youth to recover from the oppression they experience in school or in their communities.
UofL News: Tell us about the professional development program you are creating.
Brown: The professional development program utilizes the Social Justice Youth Development (SJYD) framework, an approach focused on the adoption of principles and practices that work to close the gaps created by inequities and access to opportunities for youth.
First coined by Shawn Ginwright, a researcher at San Francisco State University, SJYD is an approach to engaging in youth work that shifts the focus from changing youth behaviors to acknowledging the role that systemic racism and oppression play in the lives of youth who come from communities who have been historically excluded.
Since its inception in 2010, a number of youth development researchers and practitioners, including myself, have adopted this framework as a tool to cultivate social change in their communities by engaging with youth in a way that redistributes power between youth and adults. SJYD creates opportunities for youth voices to be placed at the center of decision-making about ways to address issues that directly impact them and their communities.
UofL News: Before joining the SPHIS faculty, you completed a post-doc at UofL, working with the Youth Violence Prevention Research Center (YPPRC). How did that work build your current research? 
Brown: My work with the YVPRC focused on integrating SJYD into youth violence prevention research. This helped to support the team at YVPRC to shift the narrative about the cause of youth violence being interpersonal behaviors to focus more on structural violence. During my postdoc with YVPRC, I learned that a number of youth development professionals wanted to use SJYD approaches in their work with youth but did not have the tools, resources or supports needed to integrate it into their day-to-day activities. They needed not only training support but also funding which is why the professional development program we are building is focused on both youth development professionals and youth serving organizations and funders.
UofL News: Long-term, what do you hope will be the outcome of your research? 
Brown: My hope is that youth development professionals, youth serving organizations and funders of youth development work integrate more equitable approaches in their policies and practices in order to integrate SJYD throughout the whole system of youth development. My hope is also that through this process of creating room for more equity within the youth development system, the voices of youth are not just heard but also have decision-making power.
UofL News: Anything else you'd like to share?  
Brown: We are currently recruiting youth for a youth advisory board to help us lead the work of developing the professional development program for youth development professionals in Louisville. Additionally, I'm always trying to amplify youth voices whenever I am given the opportunity to. I would like to take this opportunity to uplift the work of the youth at the Food Literacy Project in Louisville and encourage everyone reading this to check out their virtual photovoice exhibit.