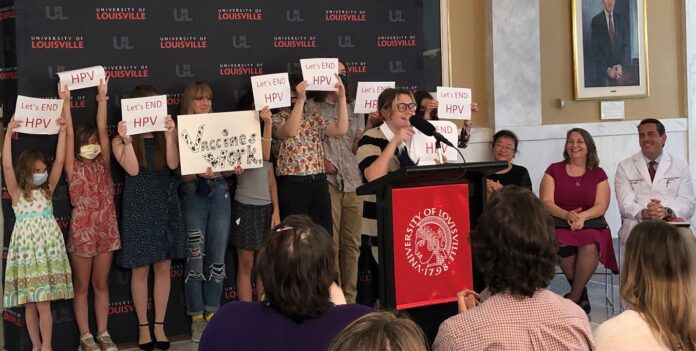 The American Cancer Society along with Kentucky health officials recognized the lifesaving contribution of University of Louisville scientist and researcher, Alfred Bennett Jenson, for his role inventing the human papillomavirus (HPV) vaccination in 1992. Jenson died in December 2019.
Jenson's widow, Shin-je Ghim, a researcher and co-inventor of the HPV vaccination, was presented with a commemorative plaque honoring Jenson's legacy in vaccine discovery. Jason Chesney, director of the UofL Health – Brown Cancer Center, accepted a second commemorative plaque recognizing Jenson's work.
Cancers caused by HPV are a significant public health problem in the United States, but these cancers are preventable with HPV vaccination. Early in the COVID-19 pandemic, HPV vaccination rates among adolescents fell by 75%, resulting in large numbers of unvaccinated children.
The American Cancer Society and Kentucky officials urge health providers, parents and adolescents to get back on track with HPV vaccination this summer.
According to 2019 data from the Centers for Disease Control and Prevention, just more than half (54%) of adolescents were up to date on the HPV vaccine. Those numbers have declined dangerously since the pandemic.
HPV is a common virus infecting nearly 80 million Americans – 1 out of every 4 people – and HPV is known to cause six types of cancer. While there is no treatment for HPV, the vaccine can prevent it. Through vaccination, more than 90 percent of HPV-related cancers can be prevented when given at the recommended ages.
The U.S. has recommended routine HPV vaccination for females since 2006, and for males since 2011. Current recommendations are for routine vaccination at ages 11 or 12 or starting at age 9. Catch-up HPV vaccination is recommended through age 26. Adults aged 27 through 45 should talk with their health care providers about HPV vaccination because some people who have not been vaccinated might benefit.
The HPV vaccine series is two doses for children who get the first dose at ages 9 through 14 and three doses for those who get the first dose at ages 15 and older and for immunocompromised people.