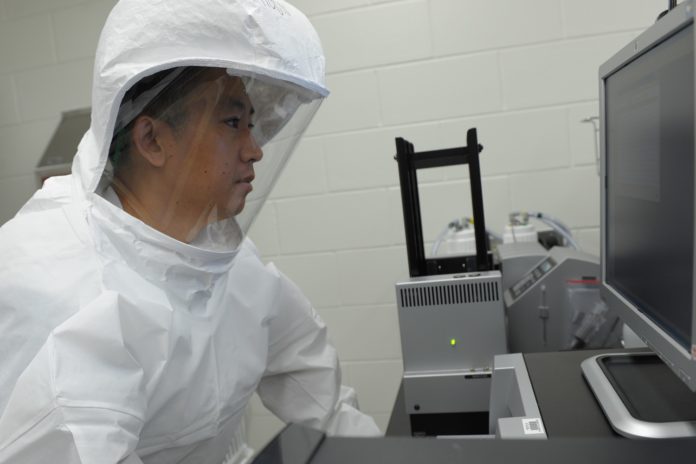 Donghoon Chung, PhD, a virologist at the University of Louisville, is one of three principal investigators with a new center working to advance new drugs for the treatment of equine encephalitis viruses in humans. The project, Center of Excellence for Encephalitic Alphavirus Therapeutics, is funded by a $21 million grant from the National Institutes of Health over five years.
The center, headquartered at the University of Tennessee Health Science Center in Memphis, will develop therapeutic drugs to treat three mosquito-borne alphaviruses that cause serious illness in humans and horses: Venezuelan equine encephalitis virus (VEEV), Eastern equine encephalitis virus (EEEV) and Western equine encephalitis virus (WEEV). Although a vaccine is available for horses, there are no FDA-approved treatments or preventive vaccines for these viruses in humans.
Chung, an associate professor in the Center for Predictive Medicine and Department of Microbiology & Immunology at UofL, said the center's goal is to refine potent small molecule compounds the researchers previously identified as promising as antiviral drugs for treating the encephalitis viruses, and enable those compounds to move to the next step of research, clinical trials in humans.
"In my previous research I found that these compounds inhibit the viral replication cycle. However, we want to further understand which target molecules are interacting with the compound," Chung said. He described the mechanism of the compounds the group is investigating as similar to the way the drug nevirapine, a non-nucleoside reverse transcriptase inhibitor, works in treating human immunodeficiency virus (HIV).
"This project is to develop a new antiviral compound to treat these diseases in humans," Chung said. "However, we do not limit our applications of this drug to only humans, as it may be possible to adapt it for treating horses as well."
These equine encephalitis viruses infect humans and horses through the bite of an infected mosquito. According to the Centers for Disease Control and Prevention, symptoms of infection include fever, chills, headache and vomiting. Outbreaks of the Western and Venezuelan viruses are uncommon, and an average of only seven human cases of EEEV have been reported annually in the United States throughout the past ten years. However, the disease may leave people with permanent neurological symptoms, and approximately 30% of people who contract the Eastern equine encephalitis virus will die from the disease.
According to Chung, the potential for the viruses to be used in bioterrorism is perhaps even more worrisome. The CDC recognizes viral encephalitis as a Category B human biothreat, making the development of a treatment important.
Chung's co-principal investigators in the center are Colleen Jonsson, PhD, of the University of Tennessee Health Science Center who directs the center, and Jennifer E. Golden, PhD, of the University of Wisconsin-Madison School of Pharmacy.
"The goal of our new Center of Excellence is to further develop novel therapeutic molecules discovered by our team that are highly potent across all three viruses, moving the optimal ones forward into pre-clinical development," said Jonsson, formerly director of the UofL Center for Predictive Medicine.
Chung will test the compounds for toxicity against human cells in vitro, deciphering their molecular mechanisms and determining their resistance threshold utilizing the facilities and staff at the Regional Biocontainment Laboratory at UofL. He also will test the compounds' resistance threshold that inevitably develops over time, along with Juw Won Park, PhD, assistant professor of computer engineering in the J.B. Speed School of Engineering at UofL.
Once their work is completed, the researchers expect the new drugs would be ready to begin clinical trial testing in humans.