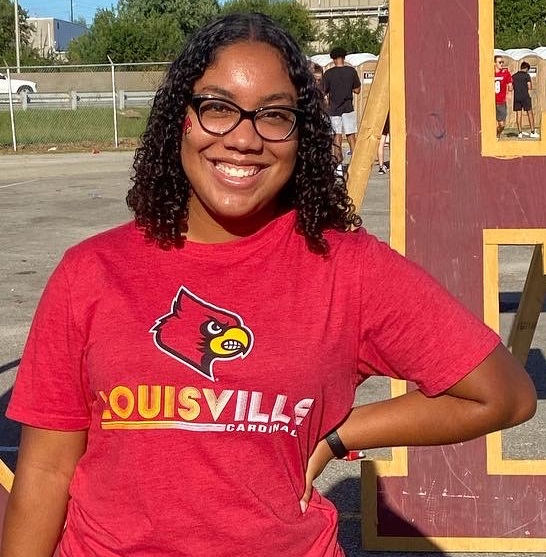 When someone suggested that she sign up for a training aimed at preventing power-based personal violence, Jasmine Meadows jumped at the opportunity.
"It seemed like something really important to be educated about," said Meadows, a student success ambassador with UofL's Student Success Center.
A comprehensive strategy called Green Dot focuses on preventing sexual violence, dating violence and stalking. Changing campus norms by empowering bystanders to take action is a big part of the program's goal, says Kathleen Elsherif, program coordinator for Green Dot and the PEACC Center.
"Combating power-based personal violence is a public health issue, and we all have a role to play. Green Dot gives faculty, staff and students shared language and a shared understanding of the small choices we can each make every day to change our culture – we say that no one has to do everything, but everyone has to do something," Elsherif said.
A key component of creating this community is through campus-wide campaigns, mobilization events and targeted bystander intervention trainings that teach the model: direct, distract or delegate. A direct intervention involves a bystander confronting a situation to stop it, the second strategy aims to create some type of distraction to diffuse what's happening, while delegating enlists the help of someone else, perhaps a friend or if necessary, police.
"The main takeaway from the training for me is whether I use my voice, behavior or attitude to promote safety it doesn't matter – what matters is that I step up and help those around me," said Meadows, an early elementary education major.
It's been seven years since Green Dot trainings have been offered at UofL, as additional campus buy-in and resources were needed to continue and upscale the initiative. When the program relaunched this past spring semester, Elsherif says they started with student influencers, which included Meadows.
This fall, Green Dot trainings have been extended to individual schools and departments, along with faculty and staff. Although the PEACC Center manages the program, there are now more than 20 members of the Green Dot initiative across UofL's campuses.
"It is so important to become aware of the Green Dot initiative because in college we sometimes find ourselves or others in uncomfortable and maybe toxic situations. If you know about Green Dot, then you might have ways to get out of those situations," Meadows said. "The training can give you some great tips and resources to use for yourself or to help others."