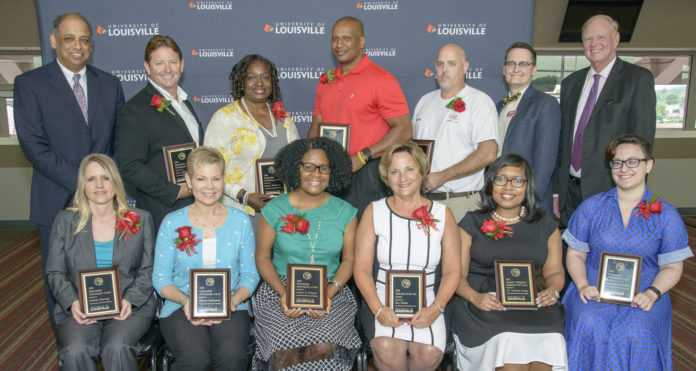 The University of Louisville's Office of the President recently recognized its 2016 Outstanding Performance Award and Supervisor of the Year Award recipients.
The Outstanding Performance Awards recognize classified and professional/administrative staff for their outstanding performance and commitment to service. The Supervisor of the Year Award recognizes staff and faculty supervisors who provide leadership in creating work environments that facilitate work/life balance, professional development and performance management.
Each recipient received a plaque, a $1,000 cash award, and a letter of appreciation, as well as a luncheon in their honor hosted by President James Ramsey. Winners were selected by a committee after nominations were submitted during the spring semester.
Outstanding Performance Award Recipients
Alexandra (Alex) N. O'Keefe, program assistant senior in the University Honors department. O'Keefe coordinates and oversees the activities of the main office, organizes and supervises several student workers, and assists with nearly all levels of office functioning.
According to her supervisor Pam Drake, "These brief descriptions do not begin to do justice to the amazing number of tasks that Alex balances, the grace with which she juggles them, the speed in which she completes them, and her commitment, foresight, and organizational abilities."
Rick Taylor, facilities manager in the Arts & Sciences Dean's Office, was nominated by Dean Kimberly Kempf-Leonard.
"(Rick) is a strong advocate for our projects and mission, and always professional and cooperative with others. I have high confidence in letting him proceed with any project, regardless of its nature, that the job will be well done," said Dean Kempf-Leonard.
Kevin Kilkelly, renovation carpenter foreman at Physical Plant, runs the day-to-day operations of the renovation carpenters and was instrumental in the successful completion of renovations to nine A&S classrooms.
His supervisor, Rick Martin, nominated Kilkelly, stating: "Kevin is a true self motivator. He has also done an amazing job of bolstering employee morale … The output of the renovation carpenters has doubled since Kevin came on board. The quality of work has generated numerous repeat customers that keep our shops extremely busy."
Will Barnett, technology consultant III in IT, manages UofL's corporate relationship with Xerox to oversee operations, service, and billing for hundreds of multifunction devices on all three campuses. He also manages our corporate relationship with Toshiba Business Systems.
"I can say without any hesitancy that Will Barnett is one of a kind. His dedication, kindness, humility and technical skills combine to create a person uniquely qualified for his role. This man is the very definition of outstanding," said Bob Knaster, executive director of IT.
Denise Dadisman, administrative associate at the Nystrand Center of Excellence, was nominated by Jean Wolph, director of the Louisville Writing Project.
"She always makes me feel as though my needs and deadlines are her priority. I have observed that she does the same for everyone else. She maintains a heavy workload in an efficient and cheerful manner, treating everyone with patience and respect as well as a genuinely friendly demeanor," Wolph said.
Dr. Tasha Tropp Laman, director of the Nystrand Center of Excellence in Education, also nominated Dadisman, stating, "She is thoughtful, thorough and purposeful in all that she does."
Debbie Dearing, associate director of finance and marketing at the Delphi Center for Teaching and Learning, supervises 11 staff members, including five direct reports. She was nominated by Sally Beck, administrative services manager; Mordean Taylor-Archer, vice provost for diversity and international affairs; Diane Whitlock, assistant to the vice provost for diversity and international affairs; Gale S. Rhodes, associate provost and executive director of the Delphi Center; and Brian Buford, assistant provost for diversity.
"(Debbie) strives to maintain financial integrity and accuracy. If an issue arises, she is willing to compromise and accept responsibility for decisions. She always maintains a level of professionalism and is able to remain calm in stressful situations," Rhodes said.
"Debbie is an amazing person who has translated a lot of difficult content into something that actually makes sense," Buford added. "Debbie is the rare person whose strong skills in budget and finance are matched by her ability to be personable and to relate to those who find budgeting intimidating."
Audra French, academic support counselor at with the School of Dentistry's student affairs, was nominated by Dianne Foster, assistant dean for student affairs. She was hired four years ago to support students while they matriculate through the rigorous curriculum to become professionals.
"She has contributed to the UofL School of Dentistry's reputation as one of the most 'student-supportive' and 'student-centered' dental schools in the country," Foster said. "Through consistent and persistent caring communication, Audra has earned the respect and trust of even the most distant students and faculty."
Diane Whitlock, assistant to the vice provost for diversity and international affairs, was nominated by Vice Provost Taylor-Archer, who calls her a mentor to students, faculty and staff.
"With all her duties and the demands of her time, I can depend on her to follow through and carry out her duties expeditiously," said Taylor-Archer. "She has a very caring and warm personality and her interpersonal skills facilitate the ease in which she is able to build and maintain effective relationships. She is often sought out by faculty, staff and students for advice and mentoring."
Presidential Exemplary Multicultural Award: Dr. Latonia Craig 
Dr. Latonia Craig, associate director of admissions and diversity recruitment for the School of Interdisciplinary and Graduate Studies, received the Presidential Exemplary Multicultural Award. 
Dr. Craig's initiatives with SIGS include creating the Minority Association of Graduate Studies, which earned two RSO awards in its first year. The organization held 18 events last year and exists to serve as a support system and retention tool for underrepresented students on campus. 
"Having this group is critical because the number of underrepresented students is small and graduate school is isolating. This provides them with support so they know they're not alone, we'll help them get through," Dr. Craig said. 
Supervisor of the Year: Janis G. Mudd
Janis G. Mudd, the clinical operations manager at the School of Dentistry, was nominated by Associate Dean for Clinical Affairs, Dr. Theresa G. Mayfield.
"(Mudd) is skillful in de-escalating situations where individuals are angry and seeks to find solutions to individual problems," Mayfield said. "She has a vast institutional knowledge and a good moral compass for making decisions that will affect the many people within the school and the community we serve."
Mudd's job duties include the daily operations of all areas of the dental clinic: patient recruitment, patient registration and admissions; dental assisting; cashiering; patient records; data entry; and clinical coding for billing and collections. She serves as the top line assistant to the associate deans for clinical affairs and business and financial affairs in all patient matters.
Mudd supervises a staff of three supervisors and an administrative associate, along with 67 staff who perform the clinical daily operations.
Mudd was also nominated by Pamela Taylor, administrative associate; Elizabeth Tomlinson, dental clinical supervisor; Jo Ann Mattingly, comprehensive clinic office manager, Deborah Wright, office manager; and Dr. Timothy C. Daugherty, director of clinics.
Mattingly provided an example of Mudd's leadership: "Several years ago, when the Clinic System was undergoing changes, the staff were feeling underappreciated. Jan went to the administration and asked that the supervisors be allowed to go to a dental conference in Florida. Participation was usually limited to faculty; however, Jan felt so strongly that we needed to feel like a valued member of the educational process that she wouldn't take no for an answer. It was truly a career-changing event. I came back with a renewed mission and felt for the first time that my opinion and input mattered."
"Jan leads by example," Taylor added. "She will roll up her sleeves and get on the frontline with employees until the jobs are done."
Mudd has served at the School of Dentistry for more than 36 years.