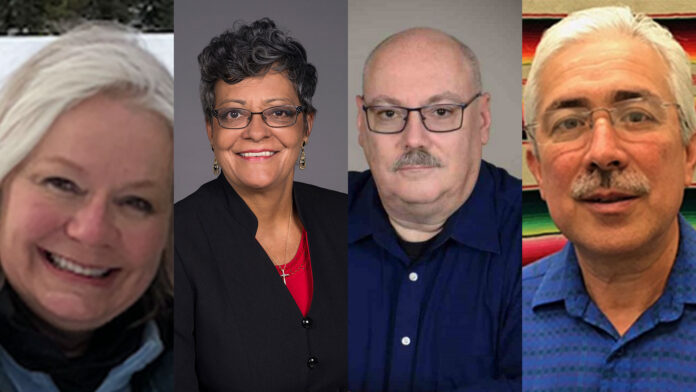 It's not been an easy task, navigating this major metropolitan university through a pandemic that forced an enormous shift in both operations and pedagogy. But navigate we did through an all-hands-on-deck approach that clearly illustrated our "community of care" Cardinal principle.
Though we're readying for a return to campus in the fall, we remain committed to acknowledging and celebrating the many above-and-beyond examples exhibited by our community throughout the past year and a half. As part of this effort, the Employee Success Center has established two new awards – the COVID-19 Heroes and the Cardinal Principles Champions.
COVID-19 Heroes
The COVID-19 Hero Awards were created for this year only to recognize those who have stepped up in extraordinary ways throughout the unprecedented crisis. These heroes include:
Timothy (Colten) Ingram, Olivia Langston, J'Lissabeth Faughn, and Mohammad Hussain, assistant directors of Residential Education
During the pandemic, while serving on the professional consultation on-call team, these assistant directors took on the primary responsibility of managing and coordinating almost 1,000 COVID-19 cases on a 24/7 basis. These duties included receiving calls or emails from Campus Health contact tracing and/or Hall Directors about students testing positive for the virus or being exposed, coordinating hotel accommodations, transportation, meal deliveries, inputting information into the Housing portal, checking in with residents daily, and providing guidance and support before and while students were in isolation.
Dr. Sherry Babbage, Comprehensive Dentistry
Babbage kept emergency dental care up and running for the community throughout the pandemic. She also obtained her certification in vaccination protocols to help at register sites and arranged meetings to educate those who were hesitant about receiving the vaccination.
Cheryl Capito-Paul, Donna Casey, Pam Frank, Allie Jones and John Spivey, Business Ops Customer Service/Quality Improvement Team
The team shifted from its normal workload and volunteered to take on the critical assignment of serving as the COVID-19 call center, answering all of the campus community's COVID questions and working tirelessly to stay up to date on the ever-changing policies to provide accurate answers. With their fingers on the pulse, they provided daily reports to the executive COVID-19 team to ensure their decisions were based on knowledge of UofL community's experience, and helped to shape the University's COVID-19 response. In all they answered 2,113 COVID related inquiries from August 2020 to May 2021, and achieved an impressive 90.4% satisfaction rating from their customers.
Jeffrey Edlin, security officer/escort driver, Department of Public Safety
Despite nationwide lockdowns, security officers never stopped providing safety escorts to UofL students and Edlin was the primary driver for the students who remained on campus, placing himself at risk.
Supervisor-Nancy Trabue and the Entire First Floor Staff, Faculty ACB OS Residents, GPR Residents and Patty Byrd, Emergency/Oral Surgery Clinic, School of Dentistry
As private practices shut down around the community, the Emergency/Oral Surgery Clinic remained open for emergency services. 
Alice Abbott-Moore, Cecilia Durbin, Jason Friedman, Matt Goldberg, Angie Kennedy, Chris Poche, Bethany Poston, Nick Sweat, Rayanne Turner, Steve Whiteside and Briana Williams, Ekstrom Library Access and User Services Team
To keep the library's vital services running as much as possible, the Access and User Services team developed new safety protocols, including sanitation procedures, to allow for ongoing circulation of items as well as other public services. They also had to shift a large percentage of their work to a remote environment, while maintaining services within the library building. One of the most notable changes was a completely new contactless pick-up system in lieu of the typical book delivery service, which had to be discontinued for safety reasons.
Felix Garza, library associate/PAS director, University Libraries
Garza was primarily responsible for seeing that the library was a safe space for students to study on HSC. Under his supervision, members of the PAS team designed a space design the reduced capacity by half. He contributed to creating KHSL messaging, PPE supplies, and safety compliance policies and ensured the implementation said policies. Garza ensured that KHSL Inter-library loan/document delivery services remained open while most academic libraries around the country completely shut down. As a result of this decision, KHSL Inter Library Loan requests increased by 145% over 2019 statistics from countries around the world: thus, promoting the reputation and excellence of the University of Louisville.
Dr. Jill Jacobi-Vessels, director, Early Learning Campus
The Early Learning campus closed from March 2020 to August 2020. Throughout that difficult time of the closure, Jacobi-Vessels researched and ordered PPE and other COVID related materials, and also consulted with her peers at other childcare facilities and learned as much as she could about COVID-19 and the implications for staff and children. During the summer, Jacobi-Vessels worked with staff to develop a transition plan for reopening the center after the summer hiatus. This included a mechanism for safely checking children in and out of the facility in conjunction with their parents and guardians.
Charles Ames, Randall Cook, Adam Davis, Rob Elliott, Rick Gesler, Ben Gordon, Jack Huber, Kevin Kilkelly, Ron Leonard, Kevin Lush, Craig Lush and Ben Williams, Physical Plant Carpenters Shop
When much of the campus had begun working remotely, a team of essential workers in the Physical Plant carpenter shop came to campus every day to plan for the eventual return of the campus community and to make sure everyone was safe. They focused on designing new systems and structures that would meet the university's COVID safety guidelines, including the build and installation of over 600 sneeze guards, 350 cleaning stations and 100 foot pulls. They also assumed responsibility for moving desks to various locations and repositioning them within offices to create safe distance learning and workspaces.
Bradley Lawton, Angela Yates, Linda Leake, Alicia Montgomery Dunlap, John Morgan, Adam Huddleston, Aimee Greene, Beth Case, Deb Hatfield, Becca Denny, Jason Zahrndt, Danny McDonald and Robin Zahrndt, Delphi Center Instructional Design & Technology and Blackboard Learning & Technology Group
Just three days after the university announced plans to switch to online instruction, the Delphi Center launched a university-wide training initiative to help faculty make the critical transition. The Instructional Design and Technology Team offered faculty initial and continued training as they made shifts to online and hybrid formats. More than 2,000 faculty attended the 146 training opportunities in addition to thousands of consultations through the year. The Delphi Center's Blackboard and Learning Technology added 13 third-party integrations with Blackboard, extended its daily support hours, added support on the weekends and included 24/7 on-call hours. Of the 4,800 tickets processed in 2020, eighty percent were closed within 48 hours. 
More information about the COVID-19 Hero Award recipients can be found here.
To learn about the recipients of the new Cardinal Principle Champions, go here.