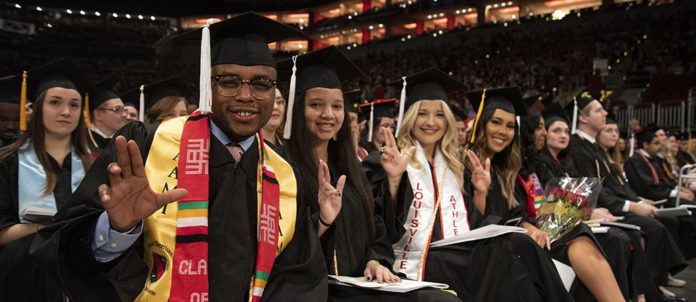 UofL's graduation rates are on the rise and others in higher education are taking notes.
UofL was one of 23 public universities that recently attended The College Completion Summit to share best practices and strategies for increasing college completion. The summit was hosted by the University of Utah and the Lumina Foundation, a nonprofit working to increase the proportion of Americans with postsecondary credentials to 60 percent.
"It was an honor for UofL to be selected to participate in the College Completion Summit," said Michael Mardis, dean of Students and Vice Provost for Student Affairs. "They used national data to look at public universities who over the last decade have significantly moved forward with their completion agenda, meaning more students graduate. For us to be in that elite group of schools, it validates the hard work that our faculty, staff, administration and leadership teams have been working toward."
The number of graduates at UofL increased from 43 percent to 58.6 percent in the last 13 years, culminating in a record class last year.
"It's important to recognize these successes and celebrate them too," Mardis said. "The national perspective is that we're a really strong university that has advanced greatly in these areas. But we're always striving to be better at UofL."
While there are numerous ways the university has intentionally increased completion rates, Mardis was asked to specifically address student engagement on a panel. He addressed hallmarks of change at UofL, like the growth of campus residential life, from 3,000 beds to more than 9,000, with more types of housing offered along with Living Learning Communities and other programs. The number of registered Student Organizations has also grown from 20 to 450 and students participating in Greek life has grown by 20 percent.
Research shows that students who live on campus and participate in campus life are more likely to graduate. 
Specific initiatives have helped as well, like the honors and scholarship programs, the Persistence to Graduation Committee and CardSmart, an analytic advising platform which flags students at risk of not succeeding in their college career. 
Mardis told Summit participants about programs that are meant to boost graduation rates for African American students, like the Black Male Initiative and Porter Scholarship Program.
Other UofL attendees included Amy Lingo, dean of the College of Education and Human Development, James Begany, vice provost of Enrollment Management, Khotso Libe, systems analyst and Lily Assgari, coordinator of Strategic Planning and Assessment in Student Affairs. 
The Lumina Foundation paid for two students to attend the Summit: Sabrina Collins, Student Government Association's Academic Vice President and Samantha MacKenzie, a graduate student and Student Advocate.