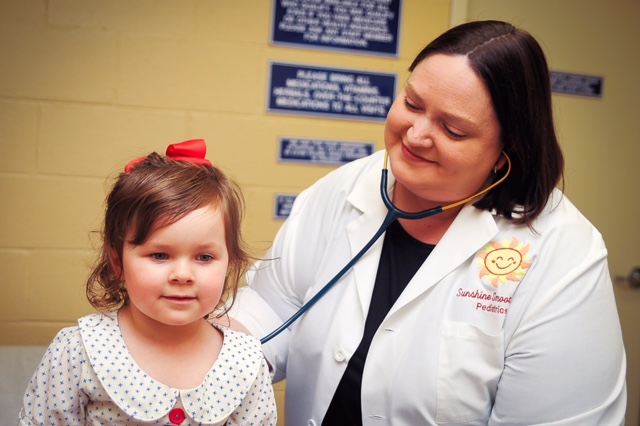 When she was in 8th grade, Breathitt County native Sunshine Smoot decided she wanted to be a pediatrician. As a Governor's Scholar after her junior year in high school, she happened to overhear one of the instructors talking with another student about GEMS, a program that provides gifted high school students with Guaranteed Entrance to Medical School (GEMS) at the University of Louisville even before they start college.
"I remember her explaining what a one-of-a-kind program GEMS was, how those selected had unique opportunities in undergrad that others would not have until much later in their medical careers and how the GEMS were a close-knit group seen around campus together," Smoot said. "Overhearing that one conversation affected my whole life."
For 30 years, GEMS has provided mentoring and support for nearly 300 academically-talented youth from across Kentucky interested in becoming physicians by providing a clear path to complete college and enter medical school. Each academic year, about 10 students are admitted to the program as freshmen entering UofL.
Established in 1988, GEMS paves the way for the students selected for the program as they enter UofL as undergraduates knowing they will have automatic admission to the UofL School of Medicine as long as they maintain certain academic standards. In addition, GEMS students have the opportunity to shadow practicing physicians and faculty, participate in seminars, serve the Louisville community and build relationships with other students who have the goal of becoming a physician.
The students retain their automatic admission to the UofL School of Medicine as long as they have maintained a 3.4 cumulative and science grade point average in undergraduate work, scored at or above the national mean on each section of the Medical College Admissions Test (MCAT), and participated fully in program activities.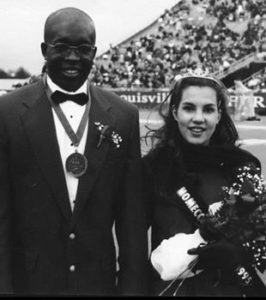 Kevin Trice, MD, MBA, now a director of sleep medicine at Baptist Hospital in Madisonville, said GEMS gave him the confidence and freedom to pursue medicine.
"It completely changed my trajectory. I was interested in medicine, but planned to pursue engineering since it was easier and I had a better chance," Trice said. "Once I was accepted, it relieved me of the anxiety and stress common in undergraduate pre-med students."
James Frazier, MD, was a member of the 1990 GEMS class and graduated from the UofL School of Medicine in 1998. Now the vice president of medical affairs at Norton Healthcare, Frazier said the GEMS program was life changing.
"I owe everything to GEMS. They took a chance on me right out of high school. It took a lot of pressure off that I saw my future classmates going through," Frazier said. "You would see those who were trying to get in, how stressed they were about MCAT and maintaining their GPA. It definitely gave me an advantage not having to worry about maintaining perfect grades."
Frazier said the freedom from stress allowed him to broaden his undergraduate education.
"Because of that reduced stress, I got to take more well-rounded classes – history, economics, finance – than if I had to maintain a 4.0 GPA. It helped me when I started private practice to have a little knowledge about the business world and how to run practice," Frazier said.
Scott Sullivan, MD, a member of the 1989 GEMS class and 1996 alumnus of the UofL School of Medicine, credits the program with providing resources he needed to enter medicine.
"I doubt I would be in medicine without the program. Living in a rural area and never having much exposure to medicine, I lacked mentors and direction. The program provided both, which proved to be invaluable," said Sullivan, who is from Ballardsville.
Now an ob/gyn and specialist in maternal-fetal medicine, Sullivan is a professor at Medical University of South Carolina in Charleston, South Carolina. 
"Having access to dedicated and experienced mentors at the age of 18 was incredibly helpful," Sullivan said. "They got me on the right track very quickly. They gave mentorship not only about how to become a physician, but how to be interested in public health, education and community involvement."
Another advantage for students who have participated in the program is the relationships they built with colleagues and mentors that enrich their college and medical school experience, including physicians, researchers and faculty in the School of Medicine.
"The most valuable part is the people you meet and you are with for four years in undergrad and medical school. For those eight years you are extremely tight. I am still in close contact with all the people in GEMS with fair regularity," Frazier said. "We have a 20th reunion coming up and I am looking forward to seeing them. Having that network of people here in town is invaluable."
"The program was very forward thinking at the time as a way to keep Kentucky physicians in the state, and I believe they have done a pretty good job," Frazier said. "It was a very progressive thing for UofL to have done 30 years ago, and I'm happy the school has supported it for so long."
Smoot was admitted to the GEMS program in 1997 and graduated from UofL School of Medicine in 2006. She now is a pediatrician at Juniper Health in Campton, Kentucky.
"I often wonder if I had not happened to overhear a chance conversation, being from Eastern Kentucky, would I have gone to UofL for my undergraduate years, and then on to UofL medical school?" Smoot said. "Looking back now, I can't imagine a different past, and I certainly would regret missing out on the friendships I made at UofL 20 years ago that still mean the world to me."
GEMS by the numbers 
Number of students participating in GEMS 1988-2018: 290
Number of GEMS students who have graduated from UofL School of Medicine: 148
Number of GEMS students currently enrolled in UofL School of Medicine: 27
Number of GEMS students enrolled or graduated from another school of medicine:19
Number of GEMS students currently enrolled in UofL as undergraduates: 39
Number of GEMS students who were Kentucky Derby Festival princesses: 5 (1 Queen)
Number of Kentucky counties represented by GEMS students: 49
Number of GEMS students who have completed or are enrolled in MD/PhD programs: 6