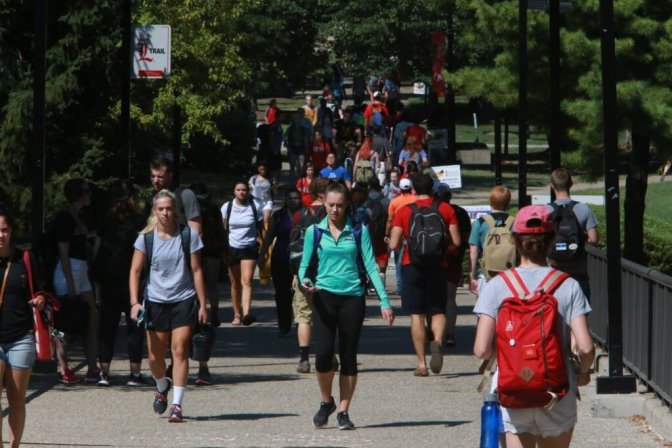 A new University of Louisville program is helping students gain hands-on experience working in innovative local startups, each with a distinct focus on health and equity.
The UofL ENGAGE program offers qualifying students roles across nearly any discipline, ranging from technology to accounting to design, while earning market-rate wages averaging around $20 per hour. ENGAGE is part of the UofL Health Equity Innovation Hub's effort to prepare students for future careers and build a robust and inclusive regional talent pipeline.
"This is a fantastic opportunity for students and for local startups working to improve health equity," said Natalia Bishop, the Hub's director of innovation and entrepreneurship. "The students gain valuable experience in well-paying jobs, mentorship relationships, and the startups get motivated students with fresh perspective, who may one-day become a permanent member of their team."
The hub was launched earlier this year as a collaboration between UofL, The Humana Foundation and Humana Inc. to close health equity gaps facing vulnerable populations. The 12 startups selected to host student workers in this cycle are in industries including health care, food and beverage, software and education. Half are Black owned.
Both startups and students apply to participate in the program and are matched for overall fit. Students are then paired one on one with industry mentors, who can provide general subject matter expertise and create life-long relationships.
All told, 63 students applied to participate in this cycle from majors as diverse as geography, exercise science, engineering and economics, and 60 percent identify as persons of color. More than half of participating students are first-generation or eligible for Federal Work Study, a needs-based funding mechanism for college students, which offsets part of the salary paid by startup employers.
"With ENGAGE, our goal is to connect the dots between students who want jobs and experience and startups tackling health equity problems who need qualified talent," said Hannah Estes, the Hub's innovation impact program manager. "The dots already exist — we just needed a shorter, more direct path, and the result benefits everyone."