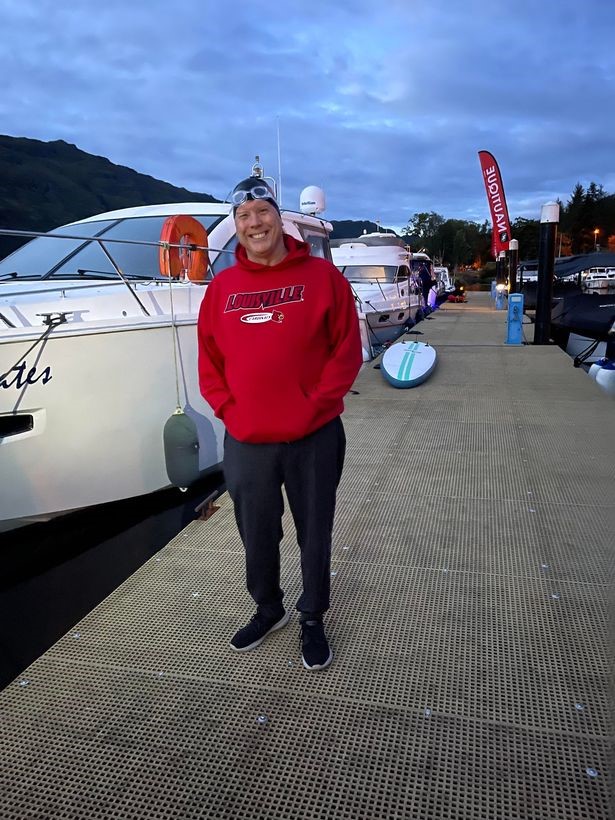 As Michael Johmann welcomes his Comparative Humanities students this fall semester, it will mark his 35th year teaching at the University of Louisville.
What those students may not realize, however, is that their professor – who is also a UofL alum – just became the first American male, and the oldest overall, to swim the Loch Lomond, a 21.6-mile freshwater loch in Scotland.
It took the 60½ year old 12 hours and 3 minutes to complete the swim from Ardlui to Balloch, an approximately 25-mile route by car.
According to Glasgow Live, there have been less than 90 full crossings of Loch Lomond in recorded history.
Johmann has been a swimmer much of his life, including through high school at Louisville's St. Xavier. He didn't return to the sport until his mid-30s, when he joined Swim Louisville Masters. Five years later, he started open water swimming, starting with a 10K near Indianapolis and working his way up to a successful English Channel swim in 2014.
The opportunity to complete Loch Lomond, however, intrigued him as it would give him those two records – first American male and oldest swimmer overall. He also wanted to face the unique challenges of the Loch.
"Every swim is different," he told the publication. "On a Loch such as Lomond, the weather and wind are changing constantly and once a crossing has started, you have to take what the Loch gives. There's no getting on the boat and waiting for a storm to pass … you either swim to the end, come what may, or you tap out and maybe have to wait another year for another chance."
Unsurprisingly, training for such grueling distances in such conditions is intense. In Louisville, Johmann is in the water by 5 a.m., swimming five miles a day and up to 30 miles a week. He trains with the Louisville River Rats open water group in the Ohio River from May through October. Sometimes the group will train at a private lake in Oldham County, as well. There is also pool training, but open water swims continue throughout the year, including in the winter, in order to train for cold water conditions.
The water temperature at Loch Lomond was 59 degrees, he said, and wet suits are not allowed according to channel swimming rules.
"In January and February, we will swim for periods of just 5-to-6 minutes when the temperature is in the mid-30s, and as far as a mile (about 25-to-30 minutes) when the temperature is in the 40s," he told UofL News. "Cold water swimming is its own adventure, and all swimmers are monitored carefully by support kayakers for signs of hypothermia."
Johmann credited his crew, including boat captain Chris Sifleet and a team of kayakers and spotters, for helping him succeed. During each swim, the crew makes sure he eats and drinks enough and stays on the course despite cross currents and other elements.
Though the temperature may be warmer than the Loch Lomond, those familiar with the Ohio River know it's not necessarily calm. Johmann calls it a "working river, with barges and tugs and riverboats of all kinds making for some challenging, even dangerous, conditions at times."
He called the Loch Lomond a "relief" because of its clean water and relatively little traffic. He also enjoyed the view. 
"The swims that attract me most are those with great scenery, great history and a great challenge. Lomond is all three. Hard to imagine more beautiful scenery," he told Glasgow Live. "Lomond is also a storied loch in song and Scottish history. Attaching my name to such a place and its swimming tradition was irresistible."
Johmann is also proud to point out he wore a UofL swim cap during the feat, while Sifleet's boat flew a UofL flag. As far as what's next, he is considering "various swims," but nothing has been determined yet. For now, he'll return to his familiar spot in front of the classroom.