University of Louisville dental students working a rotation at the Red Bird Dental Clinic in southeastern Kentucky got a chance to meet UofL's new president during a recent visit to the region with a state legislator.
Kim Schatzel, who was touring the remote area with Kentucky Senate President Robert Stivers, R-Manchester, posted selfies with the students on social media and praised the partnership.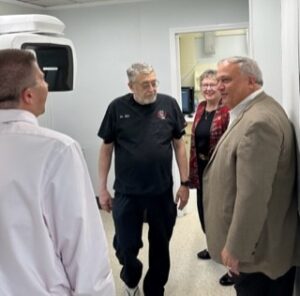 "UofL plays a vital role in preparing future dentists to serve patients throughout the commonwealth and beyond. I am so proud of the work that our dental students are doing at the Red Bird Clinic, filling a need that would likely be unmet without them," said Schatzel. "This partnership is truly beneficial to all involved. Our students enrich their educational experience, and the residents of southeastern Kentucky receive exceptional care."
UofL has partnered with the clinic in Beverly, Kentucky, since 2017. UofL dental students work there four days a week under the direction of a local dentist. 
UofL dental students work similar rotations at the Shawnee Dental Clinic in an underserved Louisville urban area and at West Kentucky Community and Technical College, providing services to residents of the Jackson Purchase region. 
The Red Bird Dental Clinic, a 501(c)(3) non-profit organization, serves Clay, Bell and Leslie counties and is located in a federal "Promise Zone," in which high-poverty communities work closely with the federal government on issues such as education, crime, health and investment. The clinic serves about 600 patients a year.
"This educational partnership is making a significant difference in the health and lives of so many families in some of the commonwealth's most economically depressed areas," said Stivers. "A rich … opportunity for UofL students means quality dentistry and improved opportunities for many in the region."
Schatzel and Stivers also toured Clay County High School, which is undergoing extensive renovations.