Threlkeld Hall, a central Belknap Campus mainstay since 1962, is set for demolition to make room for two new residence halls.
According to "The University of Louisville" book by Dwayne D. Cox and William J. Morison, Threlkeld Hall was UofL's first co-ed dorm. During its early years in the 1960s, a wall separated the 126 women in the north end of the building from the 136 men on the south end.
"As far as I'm concerned, it's the Berlin Wall," the director of the dorm said at the time, according to the book.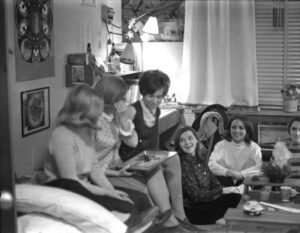 The dorm is named after Hilda Threlkeld, former dean of women.
In recent years, Threlkeld Hall has served as a living-learning community for honors and many scholarship students and, since 2004, it has hosted the Etscorn Honors Center. The co-ed residence hall now houses approximately 250 first-year and upper-class residents. Throughout its 58-year history, Threlkeld has housed approximately 14,500 residents.
Morgan Blair, Campus Housing assistant director of marketing and communications, lived in Threlkeld during her freshman year in 2010.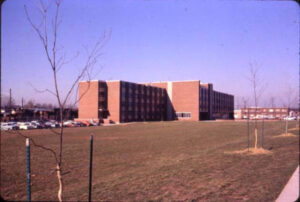 "I came from a small town in Eastern Kentucky and Threlkeld offered me a close-knit community on campus. At that time, it was the honors hall, so a lot of students were part of that honors community," she said. "In Threlkeld, if you're someone who doesn't fit in elsewhere, you have a community. There is always something going on. It's a place where everyone can have a social group."
Indeed, the lobby of Threlkeld has served as a social hub for residents throughout the years, with movie nights, karaoke, video game tournaments, billiards and more. There is seemingly always something going on. Further, a "birdhouse" exists in the lobby, where residents write down their names and majors in the beginning of the year – an effort to foster that community.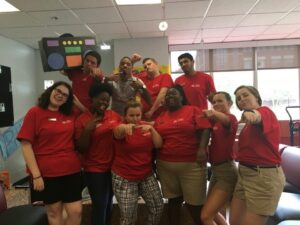 Campus Housing asked a few former Threlkeld residents to share their favorite memories from the hall, which included:
"The people. I met some lifelong friends by living in that dorm"
"The strong sense of community and everyone hanging out in the lobby having a good time."
"Threlkeld was in a prime location, super close to the SAC."
"The people I met. I have many friends I still talk to and see on a regular basis who I met while living at Threlkeld. That one year gave my some of my best friends and fondest memories of college."
"I chose Threk because it was in the middle of campus and close to everything. My favorite part was the community setting that allows you to meet new people and hang out with friends."
UofL Alumni will host a homecoming farewell to Threlkeld Hall virtually Oct. 20 from noon to 1 p.m. The event will take a last look inside Threlkeld and will feature comments from former residents. Michael Mardis, dean of students and vice provost for Student Affairs, will also share updated on the new residence halls. Campus Housing will dedicate a commemorative page on its website to Threlkeld once the dorm is officially demolished after the fall semester. 
Renderings of the new dorm are featured in the virtual tour below: