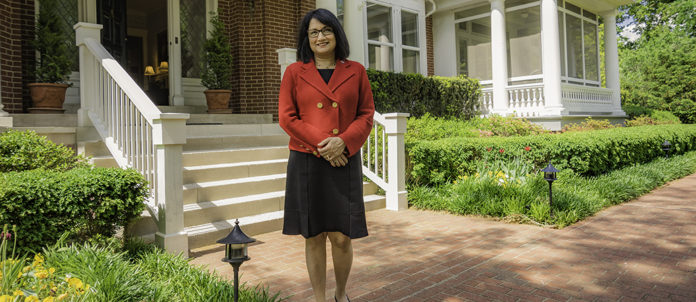 In a formal ceremony beginning at 2 p.m. Thursday, Oct. 4, Dr. Neeli Bendapudi will officially become the 18th president of the University of Louisville. The event will take place on The Oval at Grawemeyer Hall. 
The inauguration is part of a series of events scheduled next week designed to engage all of UofL's constituencies — faculty, staff, students, alumni and the Louisville community — with festivities planned for all three campuses.
The celebration kicks off on Tuesday, Oct. 2 at 11:30 a.m. at the SAC with a student social. All UofL students are invited to eat lunch with Dr. Bendapudi, which will be served by faculty and staff. 
Later that same day, at 6 p.m., an open reception and panel discussion will be held at the Speed Art Museum. The discussion will focus on UofL's Town and Gown relationship and includes Dr. Bendapudi, Mayor Greg Fischer and local education officials.
On Wednesday, Oct. 3, those on the Shelby Campus will be able to welcome Dr. Bendapudi with a breakfast, beginning at 8:30 a.m. The HSC faculty and staff social, in the HSC Plaza, begins at 11 a.m. Oct. 3, while the Belknap faculty and staff social is at 2 p.m. Oct. 3 in the Humanities Quad. 
The final event of the week is the Inaugural Celebration, which will be held at 3 p.m. after the formal ceremony on Oct. 4. Faculty, staff, students and community members are welcome to attend. 
The full slate of inauguration events is available online.