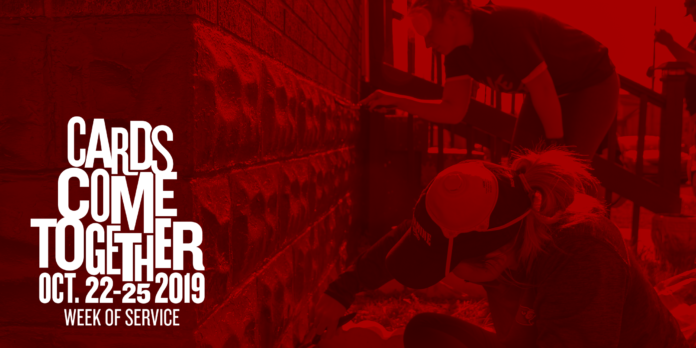 Registration is now open for the University of Louisville's inaugural Cards Come Together event, a week of service to improve the campus and community October 22-25.
The goal for Cards Come Together is to have 1,000 UofL community members, including faculty, staff, students and alumni, participate in the event. Participants will complete projects both on campus and at off-campus sites throughout Louisville. 
"One of the things that drew me to this university was its strong to commitment to improving the city of Louisville," said President Neeli Bendapudi. "I'm so excited for us to work together as a cardinal family to showcase how much good we can do."
Service opportunities during Cards Come Together include a UofL community composting project, community cleanup in Old Louisville, New Directions Beautification project in the Highlands and assisting with the Americana Community Center Fall Festival. Daily donation drive opportunities on campus will benefit various organizations, including Volunteers of America's Shelby Men's Recovery program, Dare to Care, Jefferson County Public Schools and Catholic Charities of Louisville.
"The University of Louisville takes pride in its role as a metropolitan research university," said Ralph Fitzpatrick, vice president for community engagement and co-chair of the Cards Come Together Committee. "This week of service provides another opportunity for the university community to come together to fully engage in the welfare and vitality of the Louisville metro area."
Participants must register in advance for Cards Come Together's service opportunities at uofl.me/cardscometogether. Participation is entirely voluntary.  This is not a work-related activity under the university workers compensation program. Staff can use Community Service Leave, but should obtain supervisor approval before registering to participate.