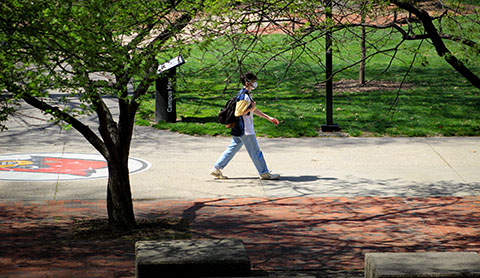 The University of Louisville is posting strong enrollment figures for the 2020-21 academic year, with undergraduate increases in underrepresented minorities.
From Fall 2019 to Fall 2020, Black/African American undergraduate enrollment rose 8%, Hispanic/Latino went up 13% and Asian increased by 11%.
"UofL has held steady and even increased enrollment while other public universities nationwide are seeing declines during this challenging year," said UofL President Neeli Bendapudi. "We are especially pleased that underrepresented minorities are finding a college home with us."
In Fall 2020, total enrollment was up to 23,246 from 22,684 a year earlier, or 2.4%. Preliminary enrollment figures for the spring semester show 21,081 total students, up from 20,877 in spring 2020 for an increase of 0.98%.  
Nationally, enrollment numbers have trended downward. The National Student Clearinghouse (NSC) reported that overall postsecondary enrollments in the United States declined 2.5% in the fall, and public college enrollments went down by 4%. Also last fall, while our incoming class enrollment increased by more than 200 students, freshmen enrollment dropped 13% nationwide, according to the NSC.
UofL has met numerous challenges during the pandemic. We have raised hundreds of thousands of dollars from generous, willing donors to help meet students' dire financial needs and enable them to continue their studies. The Student Emergency Fund, which usually maintains a modest $25,000 balance, increased almost 3,000%.
"UofL distributed $788,000 in emergency funds to 862 undergraduate, graduate and professional students since the pandemic started in March of 2020," said Dean of Students Michael Mardis.
Another result of the pandemic was students' loss of their academic routines. This led to UofL student success coaches identifying 1,222 students as being at risk and offering guidance to help them stay on track. Advisors reached out to hundreds of students to personally lead them through the spring registration process. 
"Our continuous connection with students enables UofL to find solutions to problems before they are too difficult to overcome," said James Begany, vice provost for enrollment management and student success. "We are devoted to continuing these efforts to ensure every UofL student can reach their goals."
In addition, through two rounds of 2020 federal COVID-19 stimulus funding, UofL swiftly distributed more than $12 million to students who qualified for aid. More than 8,300 undergraduate and 1,600 graduate students received average awards of $596.