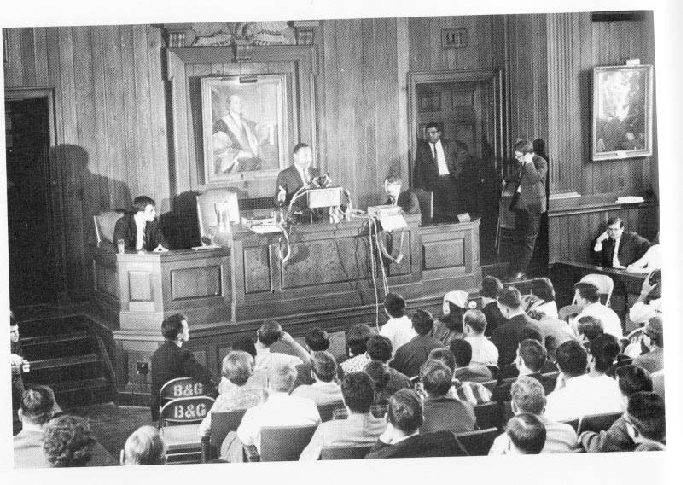 Fifty years ago, on March 30, Martin Luther King, Jr. visited the University of Louisville Brandeis School of Law.
His first and only visit to this campus happened about a week before his notable anti-war speech, "Beyond Vietnam: A Time to Break Silence," on April 4, 1967 in New York City's Riverside Church.
UofL will mark both milestones in the coming week; first with a free, public celebration March 30 in Room 275 of the law school, where a speaker panel will share memories of the event and discuss King's legacy. The event, from noon to 1:30 p.m., will include Stephen Porter, a 1968 law school graduate who invited King to speak at UofL in 1967. Porter, a local attorney, will be joined by professors Ricky Jones, Pan-African studies, and Cedric Powell, law.
"He loved to speak at colleges," said Porter in a 2014 UofL video about King's visit. "As a matter of fact, the 'I Have A Dream' speech, he gave that dozens of times before he gave it in Washington and he gave it mostly to college groups."
According to researchers in the law school, King came to Louisville many times during the 1960s, but March 30, 1967, was the only time he visited UofL.
In 2014, the university unveiled never-before-seen photos of King's law school stopover. The photo negatives were found among some old files and records. Those photos were reprinted and are now part of a permanent exhibit in the foyer of the law school's Allen Court Room.
"This was not a very big room, so there were people outside, people literally hanging from the windows," said Porter, recounting the overwhelming student interest in the event.
Another university MLK-focused 50th anniversary celebration will be hosted April 4 by the Anne Braden Institute for Social Justice Research. That event marks the anniversary of the civil rights leader's anti-war speech, which was considered King's most radical critique of the war and policies that created it; the social justice activist delivered it one year before his assassination.
The institute invites groups and individuals to participate in the 11:30 a.m. to 1:30 p.m. read-in of King's "Beyond Vietnam: A Time to Break Silence" speech and have discussions about its relevance today. Locations will be the quad entrance to Ekstrom Library and the ramp (weather permitting) to the Swain Student Activities Center on the Belknap Campus.
Read-in participants can contact the institute via email or 502-852-6142.
Later that day, the institute plans a public open house with refreshments at its office in Room 258, Ekstrom Library, from 4:30 p.m. to 6 p.m.
Below, UofL remembers the MLK visit: