If you're affiliated with UofL in any way, chances are highly likely you've met Tom Fougerousse. You may not know his name, but you'd definitely recognize his face. Or, at least the part of his face that isn't covered by a camera.
Fougerousse has served as the University of Louisville's primary photographer for over 20 years and marked his 30th anniversary with the institution this year, having onboarded as a biomedical photographer on the HSC campus in May of 1991.
He spent 10 years in that initial role, shooting photos of doctors mid-surgery among other duties. However, medical photography began to change when digital cameras became prolific, Fougerousse said, "because doctors could then shoot their own photos."
And so he started to think about something new, which brought him to the Belknap Campus.
"I really liked the idea of working for UofL and I enjoyed the types of shots I could do for the magazine. Back then (early 2000s), we had a lot of magazines – medical, philanthropy, all of the units had their own magazine. This gave me an opportunity to do more interesting assignments and meet more interesting people," Fougerousse said.
He's been behind the lens for magazine photos and everything in between since. He has been front-and-center for some of UofL's most memorable events throughout the past two decades, such as when the first self-contained artificial heart patient in the world went home in 2001, or when dignitaries like George W. Bush. Hillary Clinton, Colin Powell, Joe Biden, Sandra Day O'Connor and Mikhail Gorbachev visited campus.
He captured Lamar Jackson's dynamic Heisman season and maneuvered through caves to illustrate UofL's blind cavefish research. His favorite subjects to shoot, in fact, are those off-campus research projects. He also likes the annual International Fashion Show and raiseRED events, as well as any School of Music event.
"I like getting entertained while I'm working," Fougerousse said.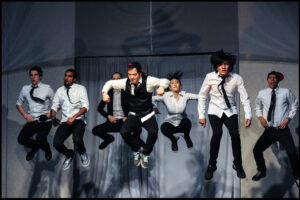 Photography started switching over to digital around 2005. At first, Fougerousse wasn't a big fan because the quality wasn't as good. It has since gotten much better and, in fact, there's not much need for his negatives anymore. So, he recently donated all of them to University Archives, where they will be preserved as part of UofL history for posterity.
"I guess if you think about that, it is kind of cool," Fougerousse said.
Fougerousse pulled some of his favorite photos from each of his 30 years at UofL and they are available in chronological order here.