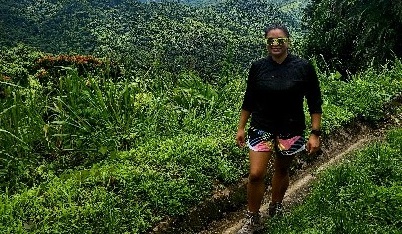 Cindia Fernandez wears many hats. She is an active-duty U.S. Marine Corps Master Sergeant stationed at Camp Lejeune, N.C. She also is a UofL Online Master of Science in Social Work student, with the goal of becoming a Certified Gerontological Social Worker, addressing the challenges of the aging process by promoting independence, autonomy and dignity in later life. 
A passion to help others is central to her own life, demonstrated in part through a willingness a few years ago to donate a kidney to her father who had end-stage renal disease, a condition in which the kidneys function below 10 percent of normal ability.
In June 2004, Fernandez stepped up to serve in the U.S. Marine Corps, leaving for boot camp just 10 days after graduating high school. After this and follow-up training, she arrived at Marine Corps Base Hawaii in Kaneohe Bay. During her assignment, Fernandez deployed to Iraq in support of Operation Enduring Freedom with Marine Heavy Helicopter Squadron 362 (HMH-362), providing transport of combat troops, supplies and equipment during day and night operations.
During a later assignment in Montgomery, Ala., she was a part of an infantry company and oversaw training evolutions in preparation for combat operations, contingency operations, and humanitarian/peacekeeping operations, including national emergencies.
In 2012, Fernandez arrived at Parris Island, S.C., to support recruiting missions, and was selected to attend the University of South Carolina through the Marine Corps Degree Completion Program, receiving a bachelor's degree in psychology.
Upon graduation, she was transferred to Marine Corps Air Station Miramar in San Diego, Calif., where she worked at the Professional and Personal Development Branch assisting Marines on educational program opportunities and offering transitional counseling services.
Her next assignment was in New Orleans, La., supporting the Marine Corps Reserve Forces administratively. Following that three-year assignment, she moved to her current role, as a Course Chief for the Marine Corps Center for Learning and Faculty Development, where she teaches Marines to become curriculum developers for their formal schoolhouses.
Fernandez enrolled in UofL's Online Master of Science in Social Work in fall 2022 after an extensive college search process. When looking for an institution, she said UofL's reputation was a major influencer in her decision.
Not only did UofL offer the degree she wanted to pursue but, "the Raymond A. Kent School of Social Work and Family Science ranks in the top 17 percent in the nation," Fernandez said. "UofL also is one of the few universities that matches the DoD Tuition Assistance cap per semester hour for a master's program."
Fernandez says she is impressed with the assistance from staff and faculty at UofL, pointing to Kent School program coordinators Holly Eckert and Connie Cox as being extremely helpful, saying "they carefully explained the process and requirements of practicum and the expectations as a graduate student."
UofL honors and celebrates Fernandez for her military service and is proud to recognize the 247th birthday of the U.S. Marine Corps on Nov. 10.