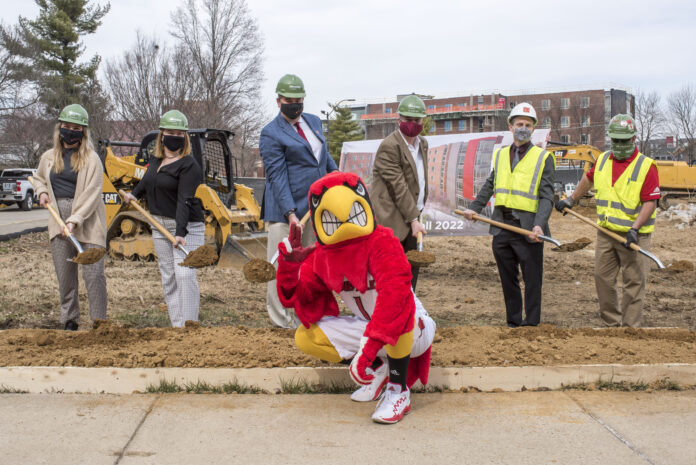 The University of Louisville's transformation of Belknap Campus continued March 9 with the groundbreaking ceremony for the latest state-of-the-art residence hall.
The five-story, 452-bed building will house incoming freshmen and is expected to open in fall 2022. It is part of an $87 million project to replace two outdated, 1960s-era residence halls in the heart of campus with two new residence halls that mirror each other in design and structure.
The first residence hall, already under construction, will open in fall 2021.
Together, the two halls will promote student success by providing cost-effective on-campus housing that includes more Living Learning communities — where students who share common interests reside near each other — and is close to classrooms, libraries, dining options and the Student Activities Center.
The new halls are "what students of today expect and deserve," UofL President Neeli Bendapudi said in a video message. The groundbreaking was live streamed due to safety concerns from the ongoing global pandemic.
In addition, student advisors have worked hand-in-hand to assist in the planning and design of the new halls.
"These halls are built in a way students asked for," said Grace Beebe, a representative of the student Residence Hall Association. Henrietta Ransdell, a Student Government Association representative who is also advising the planning and design, said the two halls are breathing "new life" to Belknap Campus from the inside and the outside.
Campus Housing Director Tom Hardy said the world-class residence halls include highlights such as two-story student lounges and are being built with construction materials that will stand the test of time.
"This is a great time for the students," said Mike Materna, UofL's assistant director of university planning, design and construction.
More details about the construction are available here. To view the recorded ceremony, click here.