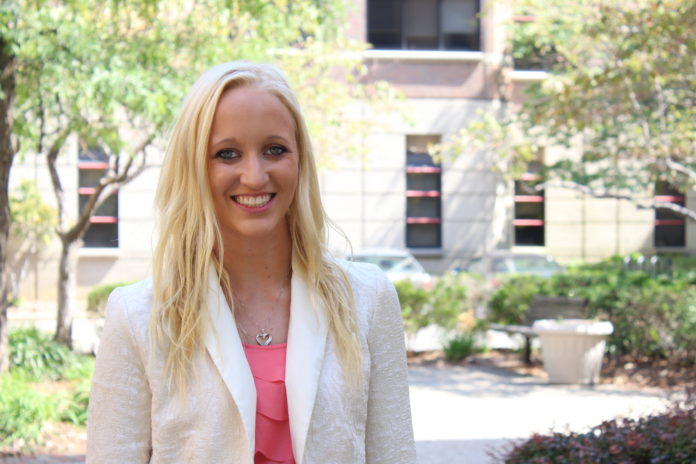 The culmination of Krista Vogt's research on the impact of evidence-based guidelines for educating new mothers about postpartum depression in the hospital setting will be showcased internationally.
Vogt, a University of Louisville School of Nursing undergraduate research scholar, will present at the Marcé Society for Perinatal Mental Health conference in Melbourne, Australia, on Sept. 26.
For about two years, Vogt has worked with her mentor M. Cynthia Logsdon, PhD, WHNP-BC, FAAN, School of Nursing Professor and Associate Chief of Nursing for Research at University of Louisville Hospital, and other researchers on evaluating patients' response to evidence-based guidelines for nurses that promote screening, teaching and referral of women with postpartum depression before being discharged from the hospital after giving birth.
"Previously, guidelines for nurses educating mothers about postpartum depression in the hospital had been very vague, mainly because postpartum depression symptoms don't occur in women until a few weeks after giving birth," Vogt said. "If moms are educated about postpartum depression while they are still in the hospital, they will be better equipped to recognize the symptoms and seek treatment."
The guidelines have been effective. Vogt interviewed 88 women who had given birth at University of Louisville Hospital, a majority of whom reported positive feelings about nurses educating them on postpartum depression and resources for treatment if they experience symptoms.
Research will be done to determine whether the guidelines lead to increased mental health treatment for women with postpartum depression.
Lauren Lazarus, a 2015 School of Nursing graduate whom Logsdon mentored, also will present her undergraduate nursing scholar project at the Marcé Society conference. Lazarus focused on the impact of state legislative efforts on postpartum depression rates in adolescent mothers.
"I am so pleased for the opportunity to introduce both Krista and Lauren to international scholars that they have referenced in their work," Logsdon said. "I am so proud of their work, and they are excellent ambassadors for UofL."