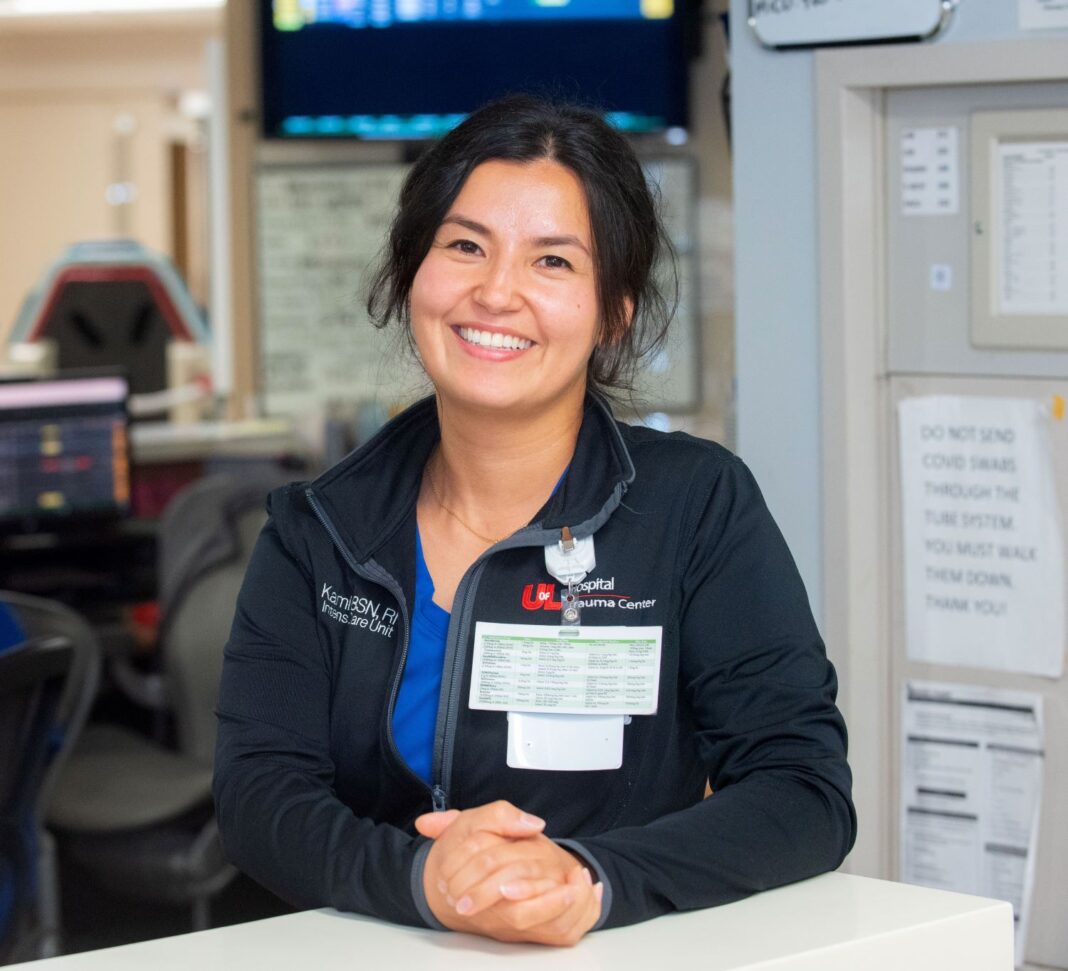 Thirty-seven-year-old nurse Kamilia Stone relishes challenges, something which has served her well in a long voyage to a medical career. A native of Kyrgyzstan, Stone emigrated to the United States 18 years ago – a daunting journey with a roller coaster of obstacles, including fleeing a revolution in her home country, learning English, and finding employment to support herself in a country where she knew virtually no one. But she was inspired by her dreams.
"When I was 19, I was struggling just trying to afford everything and living in Old Louisville, and working so many jobs that I would have to take two buses," Stone said. "I remember riding the bus and going down Chestnut Street looking past the Health Sciences Center campus and saying to myself, 'You know what? I will work here one day.'"
She worked in New York and San Diego before returning to Louisville to pursue her goal.
Stone, a graduate of UofL's biology and nursing programs, most recently worked at UofL Health – UofL Hospital on the Neuro-ICU. She now is part of the inaugural sixteen student-cohort of UofL's School of Nursing Nurse Anesthetist Program. 
"UofL always prepares us clinically, so I knew the new Certified Registered Nurse Anesthetist (CRNA) Program would be high-quality," she said. "When I saw the CVs of our NA professors with their vast knowledge and experience, I was in awe and knew that's where I wanted to be.'"
Stone said she is drawn to the one-on-one kind of patient care experience that being a nurse anesthetist will provide, something she found inspiring during her time in a COVID ICU in 2020.
"During the pandemic, when I cared for someone, I was with them for several hours," she said. "It sparked something within me, and I knew this was dedicated high-quality care."
Once she had the opportunity to shadow a CRNA, she was sold on becoming a nurse anesthetist and enrolled in UofL School of Nursing's new program which is seeking to meet a health care need, in collaboration with UofL Health. It is estimated that more than 30 thousand new Advanced Practice Registered Nurses in master's and doctoral programs will be needed through 2031 to meet rising care demand. CRNAs represent the majority of anesthesia providers in rural counties throughout the United States.
Individuals taking part in UofL's 36-month program are all bachelor's-prepared RNs with an average of four years of critical care experience. Their training will prepare them to provide safe, competent and ethical anesthesia and anesthesia-related care. The program requires a minimum of 2,880 hours in some of Louisville's top ranked hospitals, as well as clinical rotations in rural Kentucky communities including Owensboro, Corbin, Hazard and Lake Cumberland.
"Through the hard work and dedication of School of Nursing faculty and staff, along with our partner UofL Health and its anesthesia community, I am thrilled that this long-awaited program has come to fruition," said Cheryl Parker, director of the Nurse Anesthesia Program.
Kamilia Stone also is thrilled. "I love this, and I know this new challenge is going to be the right fit for me because when I have a patient, I'm so detail oriented I want everything to be done just right – I want to provide this quality of care that is like a fine jewel."
For more information about the CRNA program, visit the School of Nursing website.