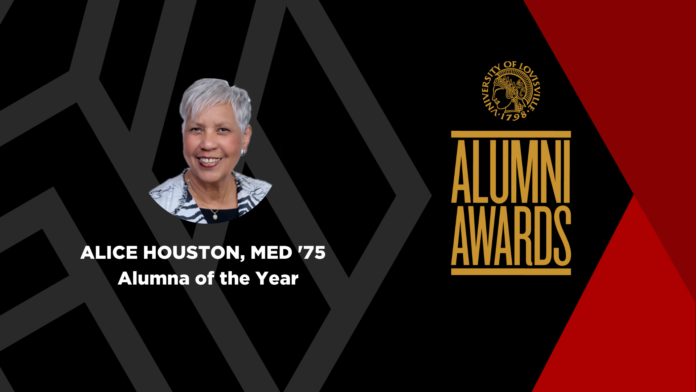 The celebration goes on, just redesigned because of the health pandemic.
The University of Louisville will honor Alice Houston as Alumna of the Year, along with 13 additional Alumni Fellows from UofL's schools and colleges as well as Libraries and Student Affairs.
Alice Houston, the 2020 Alumna of the Year, earned her Master of Education from UofL in 1975. She received her Bachelor of Science from Baldwin-Wallace College in 1968 and an Honorary Doctorate from Spalding University in 2002.
After a successful 15-year career working at UofL as assistant director of financial aid, Houston and her husband founded Houston Johnson Inc., doing business as HJI Supply Chain Solutions (HJI) along with their friend, Charlie Johnson, in 1994. Houston served as CEO from 2005 until August 2020 when the reins of the family business were turned over to her daughter and son-in-law. HJI is a supply chain logistics company with clients that include Ford Motor Company, Yanfeng, Martinrea, the Brown-Forman Corp. and Humana. More information about Houston is available online. 
"I am thrilled about the announcement of Alice Houston as our Alumna of the Year," said UofL President Neeli Bendapudi. "She has been a longtime advocate of UofL and has had an incredible impact on our campus, our past students and the Louisville community. We met during my first weeks on campus. She has been a supporter, a friend and a confidante. Alice truly has the best interests of the University of Louisville at heart."
The 2020 Alumni Fellows, in alphabetical order by college or school, are:
This year is a virtual celebration featuring video interviews with the honorees as they discuss their time at UofL and the impact of their careers.
The virtual celebration kicks off on Tuesday, Oct. 6 and culminates on Thursday, Oct. 22 of Homecoming week. Each day will feature a celebration video of an honoree on social media and the alumni website.
"The recipients of this year's Alumni Awards are among the best and brightest UofL has to offer," said Josh Hawkins, assistant vice president for Alumni Relations and Annual Giving. "Not only have they each made significant contributions in their respective fields, but they have also had a profound impact in their communities. They truly embody what it means to be a UofL graduate. We hope UofL alumni and friends worldwide join us in celebrating this year's honorees by viewing, sharing and commenting on these videos."
Other virtual events for UofL's Homecoming 2020 are planned, with more information online. 
Commonwealth Credit Union is the sponsor of the 2020 University of Louisville Alumni Awards and the preferred credit union partner for UofL.